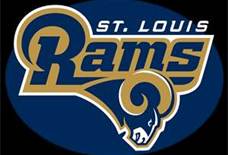 Today I drift into the world of sports and the St. Louis Rams football team. It's been a tough slog for the Rams since they won the Super Bowl and spent time as an elite team in the NFL in the first part of the 21st Century. We've gone through three coaches and many, many losses since then. The Rams play their first preseason game later today and their new head coach, Jeff Fisher had a quote in the morning paper that really resonated with me.
What you want to do through the preseason is not give up a lot of points, keep the penalties down, … protect the football, block and tackle and execute, and let the score take care of itself.
Now, a good quote does not a season make, but I've been hearing from everyone how confident and composed is Fisher and that snippet really seems to confirm everything I've heard. That quote is one to follow if you want to succeed in life. The basic idea is that if you do all the small things correctly you will reach your goal.
One of the things that's important to do in life is set goals for yourself. That is a good thing. But the thing you can't do is set goals for yourself without looking at all the steps necessary to complete the goal. The space program is an excellent example of this sort of thing. A manned trip to Mars is something that has long been on the minds of men with Wernher von Braun proposing such a trip in the 1950s.
In January of 2004 President George W. Bush proposed the Vision for Space Exploration which focused largely on a manned mission to Mars. Great, it is good to set goals, now, what are the concrete steps needed to make this happen? The Bush administration didn't lay it out, they didn't fund it, they didn't even have real technology, and most importantly they didn't understand the fundamental little things that needed to be done to achieve success. Much of the program failed at the cost of a lot of tax payer dollars. This is not the strategy to take to achieve success. Fisher's strategy is far stronger.
State high lofted goals, Fisher has stated more than once the goal of his season is to win the championship. All coaches say that. He drafted and signed players towards that end. Again, every coach in the league does that. But, that one quote, that I'm not worried about the score or even winning the game, I just want the players to play properly is very encouraging. We need to have that attitude about life, about everything we do. It's good to have goals but understand the steps necessary to achieve those goals. In this case; tackle, avoid penalties, avoid turnovers, and make blocks.
Apply that thinking to your own life and I think you'll be pleased with the results.
Go Rams!
Tom Liberman
Sword and Sorcery fantasy with a Libertarian Twist
New Release: The Hammer of Fire