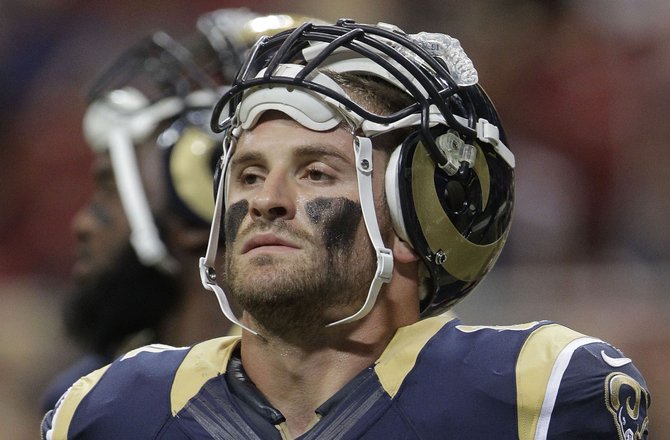 As anyone who reads my blog regularly knows I'm a huge sports fan and being from St. Louis that means I follow the Cardinals, Rams, and Blues pretty closely. It is a story from the St. Louis Rams that caught my attention today.
Most people are aware that a number of professional athletes use Twitter to Tweet their thoughts. This can be a revealing insight into their lives although I don't follow any athletes nor do I read many Tweets. Chris Long of the Rams was being interviewed after a practice session during what are called OTA (Organized Team Activities).
In the interview he was asked what it was like to be back on Twitter. Long took a break from using Twitter during the off-season but is now tweeting again. If you watch the interview I linked he is asked the question at about 1:00.
He started to give the boring sort of answer that athletes often give to questions of that nature but then stopped himself, thought for a moment, and gave what I thought was an incredible answer. "It hasn't felt that great," he said. "I was actually happier in general when I wasn't on it."
What was his reasoning? Happily he went on to explain with a forthright honesty that came out loud and clear to me. "It's just sobering. Twitter is an awful reminder of what's out there … it's bad, it's bad."
Chris was talking specifically about the LeBron James situation. James, arguably the best player in the NBA and potentially one of the best in the history of the league, is in the midst of his fourth straight NBA Championship series of which his team has won the last two. The air-conditioning went out early in the game and by the last quarter James began suffering severe cramps. He was unable to finish. A lot of nastiness ensued from Twitter. James is both very popular and much hated. That's its own story. Let's get back to Chris Long.
"They probably think the same thing about me, but, oh well," said Chris with a shrug. I can tell you for a fact that there are quite a lot of people out there saying extremely hateful things about Chris Long. I read comments on stories all the time. Long doesn't "probably think" people are saying nasty things about him, he knows it. In Long's return to Twitter he defended LeBron with supportive tweets.
As a professional athlete and as a man who uses Twitter, Long cannot claim immunity from attacks or say that people shouldn't be cruel. People have the right to say vile and nasty things about Long and James. That being said, I can only imagine the immense self-loathing that must fill a person in order for them to spew such awful things. I know some of my readers will think I'm exaggerating the level of vitriol on Twitter. I'm not. When you read some of the comments it is an "awful reminder of what's out there." The hate and the anger that boils just below the calm surface of our everyday lives. In your neighbor perhaps, or the person next to you in line at the grocery store, or a co-worker. It's sobering to think of someone so close, so filled with anger.
Would that everyone could worry more about themselves and less about others.
And that's what Long's little speech reminded me. What is Libertarianism all about?
It's not getting to do what I want. It's about having discipline, self-control, and a sense of personal responsibility so that I can do what I want and let you do what you want.
Good for you, Chris Long. A tip of the hat.
Tom Liberman
Sword and Sorcery fantasy with a Libertarian Ideology
Current Release: The Broken Throne
Next Release: The Black Sphere