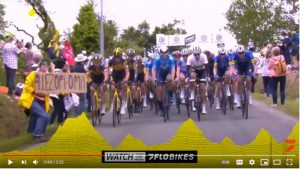 Tour de France Out-of-control Fans
Today was the first day of the Tour de France and, once again, out-of-control fans are causing enormous problems at sporting events. A fan with a large sign basically stepped in front of the entire peloton while looking in completely another direction and caused an enormous crash.
The crash took out almost every rider in the event except a few in front. It caused Jasha Sütterlin to withdraw from the Tour de France because of injuries sustained in the incident. This sort of thing is becoming almost common-place.
It's Everywhere
Bad behavior among out-of-control fans is something I started to notice not too many years ago while attending St. Louis Rams and St. Louis Cardinals home games. A fan, like everyone else in the world these days, thinks she or he can do anything he or she wants want. I paid for the ticket so I can yell abuse, disrupt the game, attempt to cause a player to make mistakes, or just about any other rude behavior.
I wrote about an incident in golf where fans attempted to heckle Sergio Garcia into making a mistake and the behavior at tournaments is just getting worse, egged on by competitors like Brooks Koepka who seem to think anything that generates interest is good for the game. Wrong.
We saw a woman openly arguing with Rafael Nadal, even going so far as to curse directly at him during the most recent Australian Open tennis tournament.
Out-of-control fans are not the exception anymore, they are the rule. For a long time, I loved going to sporting events. I used to find cheering on my team, reveling in victory, and accepting defeat to be among the best things in life. No more.
The constant whooing at baseball games makes it impossible to enjoy, even on television. It's a horror show and there seems to be no way to rein it in.
Solutions
My solution to the problem of out-of-control fans? I don't go to games anymore. I play board and role-playing games with my buddies at home instead. If you've got a better solution, let me know.
Tom Liberman