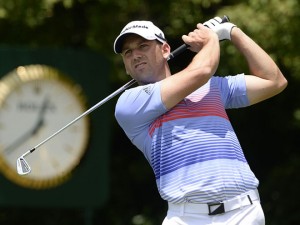 I was watching the Player's Championship golf tournament this weekend when I became more aware of golf fans attempting to intrude upon the game. In this case a group of hecklers continually shouted at Sergio Garcia as he was swinging at the ball.
Garcia is no stranger to controversy and his attempted humor about fried chicken and Tiger Woods engendered a great deal of ill will from various fans. Garcia and Woods were engaged in heated competition and Garcia made the comment when asked if he would be seeing Woods later in the week. He apologized afterwards but this did not appease fans who have been giving him a difficult time ever since.
The level of heckling at the Player's Championship came to my attention, and I think everyone else's, because Garcia was involved in a playoff with Ricky Fowler and Kevin Kisner. In the Player's Championship they play a three hole playoff instead of sudden death so the three players played three full holes together in front of the entire crowd and exclusively on camera for every shot. It was then that the heckling became painfully apparent.
Those who dislike Garcia attempted to disrupt him in the midst of his swings. They shouted in the middle of his backstroke as he putted. According to Garcia it had been going on for much of the round and he refused to blame the behavior for not winning the tournament. He parred all three holes in the playoff and was eliminated.
Shouting at golf tournaments has gotten progressively more intrusive but this was the first time I've seen a concerted effort to disrupt a player by yelling in the middle of the swing. It was disturbing to witness. This was clearly an effort by fans to alter the course of the tournament. If this sort of behavior is allowed to continue it is only a matter of time before fans of Garcia begin to attempt to disrupt his opponent and before fans of all players do the same to anyone competing against their favorite.
It's rude, it's selfish, and it's just plain ugly.
There are those that argue the crowd is loud and rowdy at football games, baseball games, and other sports and the golfers should just adjust. I have no doubt the golfers will adjust if this behavior becomes more common but I still don't like it. Individual sports like tennis, golf, bowling, pool, and others require great focus and the crowd has traditionally been quiet during the preparation and execution of shots.
Society has changed in this regard. It seems to me that fans are more selfish. Not only do they hurt the player but they ruin the enjoyment of the game for the other spectators.
What's the solution?
I'm not about passing draconian laws that banish spectators for any sort of boorish behavior. I think the real solution is to teach people to respect themselves, other spectators, and the game itself. Anyone who truly respects the effort required by professional athletes, who respects the other fans at the game and values their enjoyment, and who, most of all, respects their own integrity won't behave in such a manner.
Not an easy solution but the best long-term one.
Tom Liberman
Sword and Sorcery fantasy with a Libertarian Ideology
Current Release: The Black Sphere
Next Release: The Girl in Glass I: Apparition