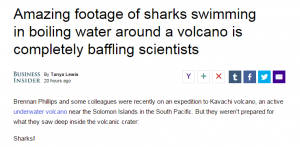 I've been derelict in my Misleading Headline duties for a few weeks, finishing up The Girl in Glass I: Apparition taking priority but I'm back with a doozy.
It's Shark Week on Discovery and that brings any story on sharks out of the woodwork and into the headlines.
Amazing footage of sharks swimming in boiling water around a volcano is completely baffling scientists screams the ridiculous and misleading headline.
The story, as is often the case in these situations, is actually quite interesting.
A team of scientists lowered a camera into an inactive, underwater caldera. Basically the giant hole from a collapsed volcanic eruption. The keyword here is, of course, inactive.
Yes when the underwater volcano is erupting it spews forth highly toxic gases and heats up to thousands of degrees. When it's inactive it's simple ocean habitat. Sharks swim in the ocean. So there you go. Still it is pretty cool footage. Go take a look at the article but ignore the headline.
Tom Liberman
Sword and Sorcery fantasy with a Libertarian Ideology
Current Release: The Black Sphere
Next Release: The Girl in Glass I: Apparition – Release date: late August 2015