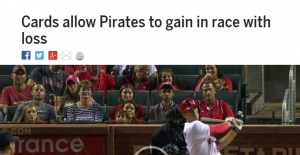 I just read a headline that I think qualifies for my Misleading Headline of the Week although it's not so much misleading as it is stupid.
Cards allow Pirates to gain in race with loss reads the headline.
A little background about the story. The St. Louis Cardinals are having an outstanding season. They have the best record in baseball. They are looking fairly certain to return to the playoffs although there are still a few games to play. The team immediately behind them in the National League Central Division is the Pittsburgh Pirates.
I was at the game last night. The Pirates handed it to us 9 – 3. J. A. Happ pitched brilliantly keeping the team off balance all night. Those darn lefties! The Pirates have some excellent players including Andrew McCutchen who might well be the best player in the game. While the Pirates are second to the Cardinals in the division race they also happen to have the third best record in all of baseball and the second best in the National League.
So as to my point in all of this?
We didn't "allow" the Pirates to gain on us. They hammered us because they are a good team. That happens.
The Cardinals came back today and beat the Pirates 4 – 1 behind stellar pitching from Jaime Garcia. Those darn lefties!!
Tom Liberman
Sword and Sorcery fantasy with a Libertarian Ideology
Current Release: The Girl in Glass I: Apparition
Next Release: The Gray Horn