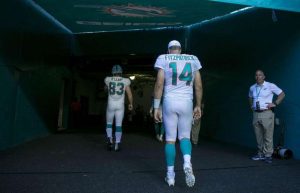 The Miami Dolphins are playing to lose and a lot of people don't like it. The Dolphins have all but tacitly admitted they can't make the playoffs this season and traded away their best players hoping to finish in last place and get good draft choices. This is not the first time we've observed such behavior and its been at least somewhat successful in the past.
The Houston Astros, Chicago Cubs, and Philadelphia 76ers have all employed the playing to lose strategy with varying degrees of success over the last decade. Many argue there is little that can be done to stop such behavior despite the obvious negatives associated with it. Mainly the players lose years out of very short careers and the fans have to sit through seasons of inept play with the hopes of victory at some undefined future point which sometimes never comes.
The way to change this behavior is simply to understand why it is being implemented in the first place. Teams try to lose because they will get better draft choices. The way sports leagues work in Canada and United States, but nowhere else in the world, is through drafts in which players are enslaved, that is say drafted, by a single employer and cannot negotiate with any other team. The worst teams draft first and the best teams draft last. I wrote about why the system is a Libertarian Hell already, please take a look at that article to understand the immorality of the system. Today I'm going to talk about how abolishing it also eliminates playing to lose.
Well, honestly, I don't really have to do much explaining. If all players joining the professional ranks for the first time are allowed to shop their services to whatever team is willing to meet their price, there is no playing to lose. With a salary cap imposed by the various leagues it is up to each team to give the best contract to the player who will help her or his team the most. It's done this way in college and across the world, so don't fill my comments with suggestions on how it won't work.
The best running back would certainly be incentivized to sign with a team that is in need of a running back and vice versa. This is the way it works for every other person first entering the work force and for all other businesses in the world.
Don't like teams playing to lose? The solution is simple and ethically right. Win and win.
Tom Liberman