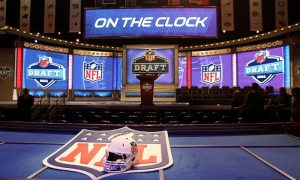 With the conclusion of the NFL regular season we are once again talking about the draft. The draft exists for all professional sports leagues in the United States and it is a horrific affront to my Libertarian sensibilities on a number of fronts. I figured I'd spend the last day of 2018 tilting against that indestructible monstrosity that is the draft.
The very idea that a young professional exiting their schooling is drafted by one company and they are only allowed to negotiate and sign with that company should bother anyone who believes in freedom. The courts somehow decided because collective bargaining agreements were made between unions and the various sports leagues this means entry drafts are not subject to anti-trust and restraint of trade laws. Poppycock! If someone writes up a contract that gives me permission to kill, roast, and eat them, that doesn't exempt me from murder laws.
Many people will argue that sports leagues could not survive without the draft. At the risk of repeating myself, poppycock! This sort of draft system largely only exists in North America. Everywhere else in the world the teams sign players from development leagues according to their financial capabilities. Even here in the United States, college athletics works on this type of system. Every top high school athlete is recruited by a number of colleges and the player decides freely where to play. It seems to work well enough everywhere else so the idea it can't work in the United States is nonsense.
Then there is the very nature of the vile atrocity itself. The team that finishes in last place gets the first pick! What sort of horrible system is this? We reward failure and punish success? Where else would such a system be tolerated? At your work place? In your home? Hardly.
The solution is ridiculously simple. Get rid of the draft altogether. Each young player can negotiate with whatever team they want for a spot on the roster. If they don't get a good offer, they can go to another team and try again. Eventually the market will find equilibrium. This is how life works everywhere else except in sports.
Tom Liberman