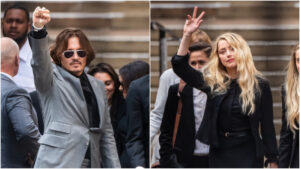 Depp and Heard are in the middle of contentious legal battle and it's a billion dollar industry. I'm conflicted. I'm talking about Amber Heard and Johnny Depp but I don't think anyone needs that clarification. Who isn't cashing in on the Depp and Heard drama?
I'm conflicted about this blog. Writing it means I'm part of the legion of Depp and Heard opportunists. Am I expressing genuine thoughts here or do I just want clicks and eyes on my blog? Maybe this post will go viral and indirectly result in the sale of millions of my novels.
On the other hand, the sheer volume of people trying to cash in on this terrible and tragic story is nauseating. I suppose it's all moot in the end, you're reading this and that means I wrote it. Let's get on with it.
Depp and Heard Trial
The trail is all over the news and I'm not going to expend any time talking about the awfulness of one party versus the other. It's a terrible tragedy. A marriage gone horribly wrong. Two people whose love turned into an international tragedy and lawsuits.
Cashing In
Who is the big winner in all of this? Not Depp and Heard. It's mainstream news channels. Alternate news channels. Misogynists, social justice warriors. It's social media personalities, all the influencers. Even morally bankrupt politicians are trying to garner a few votes by picking sides. Scalpers! Yuck.
Twitch watch parties with some of the biggest streamers. YouTube personalities with millions of subscribers releasing daily videos with sensationalistic titles. Depp this! Heard that! The Big Moment! Twitter is trending Depp and Heard. TikTok. Name a social media outlet and I'll show you opportunists trying to take advantage of the situation to make some money.
Sick to my Stomach
I'm honestly feeling nauseas just writing this. I'm regretting it. I'm thinking I shouldn't be doing it just because it means I'm part of the problem. Still, I think it's important to call out everyone profiting off this situation.
I know this lurid story is interesting and people are genuinely picking sides. That being said, there is no doubt that a YouTube video that suddenly generates millions of watches is a strong motivator to make more such content. A Twitch streamer watching the legal case live with thousands of viewers is cash in the bank. It's money and its gross money, at least I think so.
Human Nature
People love a train wreck. It's undeniable. People cheer at the hockey game as much during a fight as they do for a goal. Many people enjoy the lurid, the sensational, the exciting. Depp and Heard is all that. Everyone has an opinion and if they can make some money expressing it, all the better.
I suppose I'm tilting against windmills here, just the same as when I rail against drafting in professional sports.
Conclusion
I think I'll wrap this up quickly and then go wash my hands. Gross. It's all so gross.
Tom Liberman