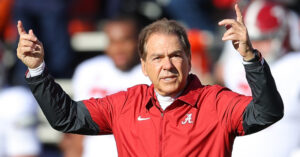 NIL is making news in the NCAA in a dust-up between Nick Saban, Deion Sanders, and Jimbo Fisher. NIL is an acronym for Name, Image, and Likeness. The state of California passed a law back in 2019 that allowed college athletes, so-called student-athletes, to profit from their NIL. From there a Supreme Court case followed and now the practice is legal and thriving.
Saban accused Jackson State and Texas A&M, coached by Sanders and Fisher respectively, of essentially paying players through NIL manipulation. Sanders and Fisher don't like the accusation much and counterclaim that Saban is the one who used such methods in the past to get the best recruits.
The NIL Accusation is True
Saban claims coaches like Fisher and Sanders are going to local business leaders and getting them to offer prized recruits NIL deals worth hundreds of thousands of dollars. This in an attempt to win the recruiting battles which decide winners and losers in the NCAA. The teams that get the best high-school players win more. Full stop, end of story.
Saban is now losing out on some of the best players to Jackson State and Texas A&M. It's important to understand Saban's accusation is absolutely correct. Fisher and Sanders, and other coaches including Saban himself, are creating a pool of money contributed by interested business owners and offering it to the most highly sought-after recruits.
What Saban wants with NIL
Saban's point is giving highly lucrative NIL deals to high-school recruits who have yet to play is a perversion of the system. The NIL is designed to reward the players on the team who become recognizable for their athletic performance.
Saban himself says he has no problems with players like Bryce Young making as much as they can from NIL deals. He believes they earned it with play on the field. Saban wants the NIL deals to be commiserate with the athletic ability of the players.
Saban suggests the current NCAA situation is like a professional sports league without free-agency rules and no salary cap. The team that wants the best players, gets them.
The Reality of the NIL Situation
Nicky-boy, I appreciate what you're saying, I truly do. I think your intentions are honorable. It's a lost cause. It's not only the coaches engineering the payments to boost recruiting. Fit and attractive young women athletes in the NCAA are getting NIL deals at an astounding rate. I'm sure that comes as no surprise to anyone.
One wonders when the next Paige Spiranac will arise on the women's college golf scene. Whoever she might be, she's going to make a lot of money playing golf and good for her.
The underlying reality is if someone wants to pay someone, for whatever reason, why shouldn't they be allowed to do so? If an athlete can make a ton of money, make it. They are one play away from a career ending injury. Sure, the coaches of the world might offer the crippled player a job as an assistant water-boy for a couple of years, gee thanks.
Conclusion
It's a free market economy in college athletics, finally! With a free market comes some bad with the good. As I said, Saban is right. Fisher and Sanders are absolutely engineering NIL deals for recruits in an all-out bidding war.
The teams that pay the most are going to get the best players. But, honestly, how is that different than its been for the last fifty years in the NCAA? The power teams get the best players and win the most games. Saban should understand that better than anyone.
Now, at least, the players get something out of it as well.
Tom Liberman