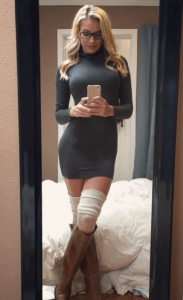 Most of you probably haven't heard the name Paige Spiranac before but I think her story is interesting enough to discuss for a moment. Spiranac was an accomplished golfer at San Diego State University and has aspirations of joining the Ladies Professional Golfer Association tour.
Her attempt to accomplish this and the success she has attained, and failed to attain, demonstrates some of the ideas behind what is called a Meritocracy. In short, a society that is a Meritocracy vests power with those who prove most competent.
Now onto Spiranac. The normal route to joining the LPGA tour is through Qualifying School where the best golfers battle it out and the top finishers gain access to the LPGA the following season. Once on tour performance dictates how long they stay. Women who finish at the top of the leaderboard and win tournaments are given access to events for a period of time.
Spiranac chose a different path. She is an attractive young woman and leveraged her Instagram account into getting a sponsor's exemption into a tournament in Dubai.
If you visit the website of the event there is a banner across the top that shows images of the tournament. Spiranac is in three of them while the winner of the tournament, Feng Shanshan, is nowhere to found despite absolutely dominating. Spiranac missed the cut and finished tied for 107th of the 111 total players.
In my opinion there are two lessons to be learned from this series of events.
Spiranac used her attractiveness to gain entry into a tournament that her golfing skills alone did not qualify her to enter. The tournament directors gave her the sponsor's exemption because people are interested in looking at her and this boosted ratings for the event. The officers of the LPGA tour are likely rooting for Spiranac to improve her golf game enough to join the tour full time. She will undoubtedly gain future exemptions because her looks bring viewers and thus advertising revenue.
There is nothing wrong with any of this. Good for Spiranac. Good for the tournament.
The second lesson is that no matter how greatly people want to see Spiranac make it as a full time LPGA player, it cannot happen unless she improves at golf and starts making cuts and contending for titles.
This is also good. No matter how many people want her to do well, it should be only her actual golfing skill that keeps her on the tour.
I guess what I'm saying is her undeniable physical appeal and her golfing skills are both part of the meritorious equation. If she had neither we would not be talking about her. If she excels at both she will become a star and make a lot of money for both herself and the tour. If she is only attractive but not so great at golf then she will go onto other endeavors and likely do well.
We all have certain things going for us. Our looks, our skills, our minds, our writing ability, or anything else. If we leverage these things we make our lives and the world a better place. If we fail to do so then we leave behind a life and a world that could have been more.
Best of luck to you, Paige. I suspect you'll never be good enough to make it on tour. Prove me wrong!
Tom Liberman
Sword and Sorcery fantasy with a Libertarian Ideology
Current Release: The Girl in Glass I: Apparition
Next Release: The Gray Horn