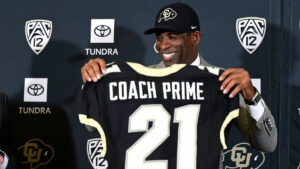 Is it a Prime Time Sellout for Deion Sanders to take the head coaching job at the University of Colorado or is it just business as usual in the college football world? It's an interesting question that depends largely on how you define the word sellout.
Deion Sanders was, until recently, the head coach at Jackson State University where he compiled an excellent record and won two championships in the role. He just took the job at Colorado which as a Power Five Conference member means a big jump in salary for Prime Time.
A lot of people are angry at Deion for taking the job and consider it a Prime Time Sellout. What do I think? Let's discuss.
What is a Prime Time Sellout?
The first question we must ask ourselves is how do we define a sellout? Is it simply someone who take a lucrative job over a lower-paying job which is perhaps a worse fit? If that's the case then, clearly, it's a Prime Time sellout.
If, on the other hand, a sellout is defined as someone backing away from their principles because they got offered a lot of money, then it's a bit different. We have to figure out what it is that Sanders holds dear and whether or not he has betrayed those ideals.
What are Deion's Principles?
The man's nickname is Prime Time. That suggests quite a bit. It means he wants to be on the big stage and earn money for doing so. If we judge Sanders by this simple test then it's clear he is absolutely not a sellout, in fact, he's holding true to his principles. He has always grabbed for the spotlight with both hands and this is just another manifestation of that personality trait.
The Job at Jackson State
However, a nickname does not define a man. When Sanders left his lucrative commentary gigs to become the Head Coach at Jackson State he did so with a social agenda. Jackson State is a one of the Historically Black Colleges and University that dot the nation's south. They exist because discriminatory policies often prevented black students from entering colleges and universities, particularly in the south.
When segregation finally came to an end and particularly when the big colleges around the country realized black athletes were the way to success, HBCUs fell on hard times athletically. The schools once proud tradition of excellence in athletic competitions began to wain as the best athletes went elsewhere.
When Sanders arrived, he pointedly addressed this problem, talking about the complete lack of funding for these schools. I've discussed how money makes a huge difference in athletics before and Sanders echoed my sentiments on this subject when he arrived at Jackson State.
If Sanders believed his words and his mission to elevate Jackson State along with the rest of the HCBUs, then his move to Colorado is truly a Prime Time sellout.
Conclusion
Where do I stand on the subject? I do think Deion meant what he said, or at least believed he meant it, when he took the job at Jackson State. He truly did want to elevate the school and highlight the shocking difference between athletes of wealthy Power Five Conferences and those schools with less money.
I also think the nickname Prime Time and his behavior off the field; including a reality show and a number of other appearances on television shows is indicative of a man who chases money first and foremost.
Is Deion a Prime Time Sellout? I say no. He's just exhibiting behavior inline with what I'd expect from him. If I believed what he said when he took the Jackson State job and invested time and effort with him to elevate the school, well, then I'd be a bit pissed and I get those who feel betrayed.
What do you think?

Loading ...
Tom Liberman