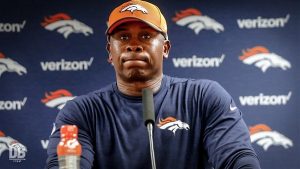 I just read an article written by Doug Farrar in USA Today lamenting the firing of five black coaches in the NFL. There were eight coaches let go by their various teams this year and those included Hue Jackson, Marvin Lewis, Steve Wilks, Vance Joseph, and Todd Bowles who are black. Farrar thinks this represents a backward step for the NFL in their attempt to improve minority hiring practices. I strongly disagree. I think it's a beautiful and amazing step forward.
Back in 2002 a situation arose in which evidence-based metrics showed that black coaches with better records than white coaches were more likely to be fired and less likely to be hired for another job. This resulted in the Rooney Rule. This rule was designed to ensure NFL teams in the future would more fully consider minority candidates for the position of head coach. At the time of the Rooney Rule there had been a total of six minority head coaches in the entire history of the NFL. Since then a further eighteen have been so hired.
The fact that five black coaches were fired is, to me, a tremendously strong indication that the Rooney Rule has had the desired effect and that black coaches are being hired and fired on the merits of their record rather than the color of their skin. That's a great thing. Everyone should be hired and fired on their merits rather than external factors like race. There is nothing in the color of a person's skin that will make her or him a better or worse coach.
Let's take a look at the events of this season in context. As I said, prior to 2002 and the Rooney Rule there were a total of six head coaches of color in the entire history of the league, one of whom was Hispanic rather than black. The fact is, this season an equal number of black head coaches were fired from their jobs as existed as head coaches in totality prior to 2002. If that's not progress, I don't know what is.
It's fairly easy to look at events through the lenses of our choice and come to conclusions that conform to our biases. I'm of the opinion that's what is happening here. People who see racism in the NFL, and I have no doubt that it still exists in some small corners of the league, want to find reasons to point it out. This is not one of those times. I think the coaches that were fired lost their jobs for performance and personnel issues that have nothing to do with race.
I feel confident that black coaches will be hired to fill at least some of those positions and also those of the white coaches that were fired. Sports is a great leader in this sort of thing. Jackie Robinson broke the color barrier in baseball in 1947, long before segregation ended. The Texas Western Miners defeated Kentucky in the NCAA Basketball Championship in 1966 which led to integration in the south as a whole.
Winning is the thing in sport and if a player or coach can help a team do so, race should not be a factor. I certainly don't deny a long history of racism in sport but I'm of the opinion the firing of five black coaches in a single season is a testament to the death of such thinking, not its perpetuation.
Tom Liberman