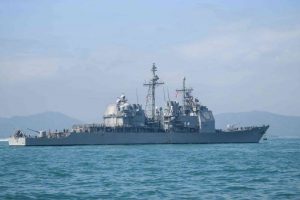 I just read an intriguing article about the elimination of Bread and Water as a punishment in the United States Navy. I'm not amazed by the punishment itself but rather how it started and why, until recently, it was still being used.
Bread and Water is a disciplinary action available to captains of naval vessels where they can punish a sailor by restricting her or his diet to simply bread and water. The modern terms of the punishment limit the amount of time to three days and ensure that the sailor in question is given as much bread and water as they desire. In 1909 the maximum time was reduced from thirty days to seven and sailors could no longer be chained while undergoing the punishment.
The bit I found most interesting is the idea for Bread and Water punishment was derived from a similar practice in the British Navy. At the time that naval power was largely considered the finest in the world so adopting some of their practices made a great deal of sense. However, the British Navy outlawed the punishment in 1891. That's not 1981 in case you are a little bit dyslexic, as am I. It was banned in the British Navy over one-hundred years ago. Yet the Bread and Water punishment persisted in the U.S. Navy until 2019.
This is the equivalent of doing something for the sole reason that your mother or father did it that way. That is, to a large degree, an enormous component of human psychology. I wrote sometime ago about why so many people feel it should be required to teach cursive writing in school when it has little practical use in the modern world, particularly when it takes so much time from other, more useful, subjects.
We do many, many things simply because they have been done that way in the past. It's not necessarily wrong to do something the same as it's always been done, but it is important to examine what you are doing, why you are doing it, and the results generated therein. The fact that it's been done a certain way for a hundred years or more has no bearing on whether or not you should continue to do it. True though this may be, it is not something most people are willing to accept.
If it was good enough for my father than it's good enough for me. Wrong. If it's good, then it's good. If it's not, then it's not. Sometimes something that worked well in the past just isn't useful today. Sometimes it was awful back then and it remains awful now. We must take the time to examine why we are doing things and the results generated from doing so.
The fact that U.S. Navy finally got around to fixing this is a good thing. The fact that it took a century to do it is a lesson for us all. Just because mom did it that way doesn't mean you should as well.
Tom Liberman