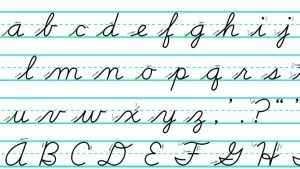 The answer is simple. They shouldn't. Yet it's a trend that just added Alabama and Mississippi and which already includes fourteen states. Fourteen states think the government should mandate spending time to learn something that is largely useless in modern society. There is little need of cursive writing but for some reason legislators and, judging by the comment section, lots and lots of regular folks, approve of these laws.
Those who support such measures make any number of claims including the ideas that it helps students think through ideas, helps creativity, it helps train the mind, and helps grammar. The reality is different and I think important to understand. The people who support such laws were taught cursive writing in school. They don't want students today taught things differently because they are threatened by and scared of this new world in which we live.
There is very little need for cursive writing anymore and soon there will be none. We use computers, tablets, phones, and other devices to type our messages, this is self-evident. There is no need for me to argue this point. Cursive has less relevance in the modern world with each passing day. It will not return as a useful means of communication. The purpose of teaching cursive writing was to allow people to write down their thoughts more quickly than block printing but with the legibility of that style. That's why cursive writing was taught, because it was an incredibly useful skill for people to know. We did not teach it to encourage creativity, to train minds, to help thinking, or to help grammar. We can teach those things in other ways.
Cursive was taught because it was useful to know. That is the most important thing and the basic reason it was taught. It's not important to know anymore so we shouldn't be teaching it. We should spend time teaching other things.
I'm not opposed to teaching grammar. I'm not opposed to teaching students creativity. I'm not opposed to teaching students how to think through an idea. I'm not opposed to teaching students to use logical thought processes. I am, however; totally and irrevocably opposed to teaching cursive in school.
The people who argue for this seem to universally lament the fact that students today are unprepared for life and that somehow spending many hours teaching them a useless skill will help this problem. Let me be clear, the people who claim young people are stupid and unable to handle the modern world are wrong. Young people today face a very different world and very different challenges than I did and they are well-equipped to handle such a life. College students, high-school students, and young adults are often intelligent, smart, capable, and largely better educated than their parents.
This insistence on cursive writing is almost solely based on fear that kids today are learning things that adults don't know or understand. People feel safe in forcing  kids to learn the things we learned, it gives a comforting sense of continuity. It's a bad idea.
This fear drives much in our lives. This fear holds us back. This fear will hold back millions of kids in Alabama, Mississippi and twelve other states.
Tom Liberman