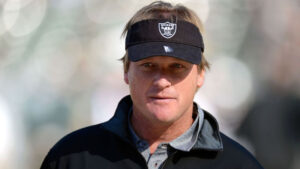 Overview
The head coach of the Las Vegas Raiders, Jon Gruden, resigned after the release of a number of emails in which he makes distasteful comments. There's a lot of bleating about Cancel Culture but the reality comes down to the fact that Jon Gruden hasn't been anything better than an average coach throughout his career.
If Jon Gruden had a coaching record significantly better than 122 wins against 116 losses we'd hear all sorts of excuses from his bosses, talk about sensitivity training, how he is a good man who made a mistake, and he'd still have a job.
What Jon Gruden Wrote
I confess that I don't have a lot of sympathy for Jon Gruden particularly when I hear him lying in order to excuse his behavior. He insulted his ultimate boss, Roger Goodell, calling him a "clueless anti-football pussy". He and Bruce Allen exchanged pictures of topless Washington Football Team cheerleaders, a scandal we're not here to talk about today.
Jon Gruden described DeMaurice Smith as having lips the size of Michelin tires and then lies and claims he just meant Smith had rubber lips, which apparently, Gruden wants us to believe is a euphemism for someone who lies. It's clearly a reference to the large lipped stereotype of black men. You know it, I know it, and Gruden knows it.
I'd have more sympathy for Gruden if he admitted that he used a stereotype. Gruden is also lying when he claims he doesn't have a racist bone in his body. That's a lie born of Cognitive Dissonance. Of course, he has racist thoughts, misogynistic thoughts, homophobic thoughts, murderous thoughts. We all have such thoughts from time to time. It doesn't make us racist or murderers, it makes us human.
This constant bleating that no one is more whatever than me, I don't have a bad bone in my body is utter nonsense. You can still be a good person even if you have bad thoughts, if you make mistakes, if you do bad things, if you say wrong things. If Gruden stood up and owned up, I'd be more sympathetic to his arguments.
That being said, the bottom line is he isn't a consistently winning football coach and that is why he was forced to resign.
Conclusion
There's a lot of hand-wringing and complaining about Cancel Culture from one side and condemnation as racist and homophobic from the other. As usual, it's somewhere in between but that doesn't play well with those who only see the world as a one-way street.
Jon Gruden doesn't have a job this morning because he's an average coach who made some mistakes. When you're really good at your job you're allowed a lot of mistakes, that isn't Jon Gruden.