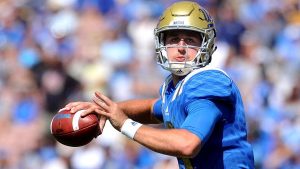 The Headline Screams: UCLA Quarterback Josh Rosen: Raise the SAT Requirement at Alabama and See what kind of team they have.
It seems like if you use a direct quote from someone it can't possibly be a misleading headline but that's exactly what happened in this case. What Rosen was talking about is the terrible incongruity between being a college football player and being a student. In the majority if the article he talks about how spending last season injured was a hugely eye opening experience. He was able to spend more time taking classes than he would normally be allowed to do. He learned that many of the requirements of his economic major are not even available at the times his normally limited schedule allow.
He used the Alabama quote not to deride Alabama but to simply illustrate that it's impossible for many of the best young football players in the nation to also excel at academics. What he said, and I think he said it effectively, is that no Division I college football team is made up of athletes who are stellar students. That if we want to limit college athletes to the best students, the quality of football will suffer.
He was saying that the job of being a college athlete largely precludes being a strong student. Both are jobs and you can't work hard at one without the second suffering. The primary job of young college football players is to play, not to study. Their schedules are designed to make it extremely difficult to accomplish both.
Perhaps he should have used UCLA as an example rather than Alabama but I have no problem with his basic point and I hate to see him getting trashed because of a Misleading Headline.
Tom Liberman