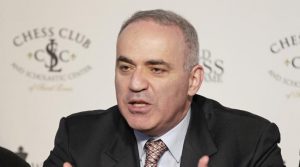 I wrote a blog post about a chess player named Hikaru Nakamura who was penalized for breaking a rule in chess a few weeks back and something happened yesterday that painfully illustrates the old adage that life just ain't fair.
In that case Nakamura moved his piece, took his hand off of it, and then tried to further move it. His opponent, Levon Aronian, immediately called this a violation and Nakamura was forced to put his piece on the original square. This cost him the game.
Tough but fair. Them's the rules. Or are they?
Nakamura just finished playing in the United States Chess Championship where he finished in a tie for second place. After the match the tournament scheduled a special Blitz Chess match between the top three players in the tournament and legendary chess player Gary Kasparov.
Kasparov is 53 years old and has been largely retired from chess competitions for the last ten years. He is considered one of the greatest players in the history of the game and some consider him the clear best. That, of course, is debatable.
Well, why today's blog? Because in a Blitz matchup against Nakamura; Kasparov did exactly the same thing as Nakamura did in his match against Aronian. Nakamura saw him do it and a wry expression came across his face. Why? Because he was totally screwed.
If Nakamura called the legendary Kasparov for the rules violation, everyone is going to consider Nakamura a bad guy. While there is a fairly large amount of money available to the winner of the Blitz tournament, it is largely an exhibition for fans to watch one of the all time greats take on some of the best United States players of today. If Nakamura doesn't call Kasparov then he is throwing away an important advantage.
Well, Hikaru, I don't have to tell you, life ain't fair.
That is today's lesson people. Sometimes you have to give life a wry smile and move on. I feel for you Hikaru. At least this one blogger thinks you made the right call, however, if it happens again, throw down the hammer!!
Tom Liberman
Sword and Sorcery fantasy with a Libertarian Ideology
Current Release: The Girl in Glass I: Apparition
Next Release: The Gray Horn