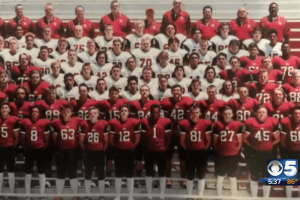 **UPDATE – All charges have been dropped**
Really? A felony for exposing your penis in a group photo of the football team?
Yep, that's what it's come to in this great country of ours. Hunter Osborn pulled down his football pants just enough to expose his penis in the team picture. The prank went unnoticed and the picture was placed in the school yearbook.
Osborn is now being charged with sixty-nine (yes, ha ha) counts of misdemeanor indecent exposure, one each for his clearly traumatized teammates, and a felony count of furnishing harmful items to minors, presumably other students who purchased the yearbook.
Smart move by Osborn? Probably not, but good grief, have we no sense of humor? First off his sixty-nine teammates share a locker room with him. I strongly suspect they've seen his penis before. I suspect they've seen quite a number of them over the years. I played sports, I was in locker rooms, boys have penises, is that the right word? What is the plural of penis? Do I care? No. Penises it is.
Does anyone actually think this image was harmful to minors?
Have the police in Mesa, Arizona not heard of the internet? Pictures of penises abound, and breasts as well, you might, if you look hard, even find a vagina, ahhh! Run, hide the children! They must not see a penis, breast, or vagina lest they be emotionally scarred.
It was a silly prank but let's face reality, no one was hurt. There was a time when the football coach would have made Osborn clean the locker room for a week the whole time snickering away and remembering some of his own youthful indiscretions.
And poor Osborn is saying things like he was disgusted by his behavior? Is that the kind of adults we want to raise? Disgusted by showing his penis in a football picture? It's stupid but, frankly, kind of a funny.
I've said it before and I'll say it again, Princeton could use a guy like Joel.
Tom Liberman