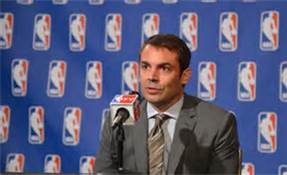 When the Supreme Court ruled that Political Action Committees could collect unlimited amounts of money from anyone to support political campaigns most people thought it corrupted politics. The same thing is destroying business in the United States turning us, some would say has already turned us, away from capitalism and onto Crony Capitalism. Perhaps even past Crony Capitalism to what's called commercial bribery.
In a recent case a fellow named Chris Hansen attempted to purchase the Sacramento Kings NBA team and move them to Seattle. This deal did not succeed for a number of reasons but that's not the point of my blog today.
The Sacramento Kings were instead sold to another bidder but there was a timetable laid out by the NBA that the Kings had to have a new arena in time for the 2016 season. The new owners immediately began to seek funding for this new stadium. There were some opposed to building this stadium and Hansen realized that if they succeeded in blocking funding he might again have a chance to purchase the team.
His interest in the stadium case is clearly a conflict of interest. Hansen stands to gain by stopping the stadium purchase. Therefore he should stay out of contact with those parties. This would be fair business practice. This is something honorable business owners did quite regularly in the past.
Hansen knew that it was a conflict of interest and so gave money to a third-party who then donated it to the PAC responsible for spending money to try to stop the stadium. The state of California has strict rules about disclosure when it comes to a PAC. Those organizations must reveal donor names. In this case the time frame for disclosure passed and his name was not revealed.
A watchdog group insisted on seeing the records and Hansen's role was revealed. Only after this did he suddenly regret his decision and apologize. His third-party donation could be illegal and the courts will eventually determine that, but my point is that this sort of thing goes on all the time.
This is the way a business succeeds in the modern-day United States. If you don't sabotage your competition through commercial bribery or crony capitalistic government intervention they will destroy you first. A business succeed not by providing a better product but by being better at destroying rivals through underhanded methods.
Thus the company that is most unscrupulous wins. That's not a good formula for consumers and it's dangerous to our freedom. This trickles up to politicians and community leaders who side with the "winning" business in order to maintain their own position.
We live in the information age. Donations to a PAC can be almost instantly revealed via something as simple as a tweet. I'm not saying people don't have the right to give to a cause of their choice I'm just saying this donation must be transparent and that conflict of interest laws must be enforced.
Do you think Hansen would have made that "mistake" if the law mandated that the amount and origin of money received must be posted immediately to some online forum?
These sorts of laws don't erode our freedom, they enhance it. If a politician succeeds because of ideas, if a business succeeds because it is properly run, then we all win.
Tom Liberman
Sword and Sorcery Fantasy with a Libertarian Ideology
Current Release: The Sword of Water ($2.99 at Amazon)
Upcoming Release: The Spear of the Hunt