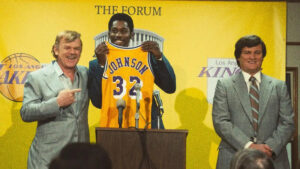 Any carry over from last week's excellent episode of Winning Time quickly dissipated with this mess of an episode. No focus, no central theme, back to unnecessary salacious content, lots of fourth wall breaking, and just a general hodgepodge of an episode.
I honestly find it difficult to believe the people who put together Pieces of a Man also released Momento Mori. Same director, largely the same writers, and yet a completely different result. I find it unfathomable.
What went wrong with this episode of Winning Time? Let's discuss.
Lack of Central Theme
I've discussed before how a central theme holds an episode together and allows other, smaller stories to swirl around it with an anchor to bring them home. The theme was readily available, the catastrophic injury to Coach McKinney. The necessity for assistant coach Westhead to grab the team and take over.
The episode certainly showed us the blood covered McKinney often enough but the other story line of Magic Johnson and his endorsement deals shared the spotlight. Frankly, both made good thematic elements but by splitting the episode back and forth between them with a cursory look at dementia inflicted Momma Buss only diluted the impact of everything.
The added theme of the financial troubles for Dr. Buss took up another big section of the episode. Each vied for supremacy and nothing really emerged. We just jumped from one scene to the next along all three plot lines. It ended up being largely confusing and unimpactful.
Too Fast
The various story lines just went too quickly. Magic's relationship with his girlfriend and father came out of the nowhere. It seemed like a vehicle for the fourth wall breaking punch line of the Nike rep at the end. I'm not a big fan of an entire storyline dedicated to setting up a zinger at the end, even if the zinger is a good one.
Coach McKinney's injuries and the team responding to them all happened so fast. It was just a whole bunch of scenes tenuously strung together. The emergence of Michael Cooper as a premier defender is an interesting story but you'd only get what was happening if you already knew the outcome. It wasn't cohesive storytelling.
The loan situation was really interesting as well but it came in short snippets interspersed with the other stories. Everything just raced along toward zinger conclusions. The episode completely lacked the deliberate and intense pacing of Pieces of a Man.
Fourth Wall in Winning Time
Not surprisingly, this episode of Winning Time broke the fourth wall almost continuously from beginning to end. The previous episode resorted to this tactic only once or twice and briefly at that. This time we found ourselves listening to long monologs as characters explained their motivations and plans. I found it irritating, pointless and detracted from the interesting stories.
Conclusion
It's a real shame of an episode following the brilliance of its predecessor. The show is still largely entertaining and worth watching but I hope we get more of the good stuff and less of the mess.
Tom Liberman