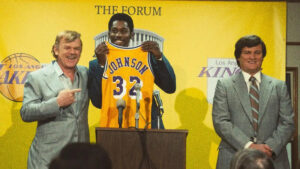 Pieces of a Man is the fifth episode of Winning Time and what an episode! Booya. If you're wondering how to craft a story properly, watch Pieces of a Man. It showcased fantastic acting, an intense and compelling story, and passion. An episode like this is why I love entertainment; this is why people filled stadiums to watch Greek Tragedies two thousand years ago.
I know I'm waxing overly poetic here, but it's been a while since I've so thoroughly enjoyed a television episode. I'd probably have to go back to the heyday of the Sopranos to remember a time when I found myself so engrossed.
Last week I mentioned what a solid understanding of character Solomon Hughes brings with his portrayal of Kareem Abdul-Jabbar. If only I knew what awaited. Anyway, on with my review.
The Central Theme of Pieces of a Man
It is generally a good idea to have a central theme to focus an episode and the characters therein. In this case we leave Dr. Buss and Magic Johnson and focus on Abdul-Jabbar. We start with him as a young witness to terrible racial injustice. His father, a police officer and a devout Christian, does not see eye-to-eye with his son, Lew Alcindor.
Being a superb athlete and champion is not enough for Alcindor. This young man is a piece of what he will become but he wants more, he wants to be more. He comes to Islam and takes a new name much to his father's chagrin but that is just another piece in the man that Abdul-Jabbar is becoming. It's a fantastic start to the episode.
This isn't about the Lakers, it's about Abdul-Jabbar, but it subtly becomes about the Lakers. It becomes about Magic Johnson, Jack McKinney, and Dr. Buss. It's a story about all of them and all the pieces of them. It's a profound episode.
Salaciousness
I've complained about the unnecessary salaciousness in Winning Time. We get it here but it is part of the story. It's part of the locker room. I've been in plenty of locker rooms. I played sports. The locker room scenes in movies with men in towels everywhere and overly condescending locker room talk always strikes me as fake. Not here.
Here the players talk about cut cocks with Wood Harris, in all his glory, playing the role of Spencer Haywood. He brings it to life with a monolog that sounds like the locker room. I believe! Whether it's a true story or not hardly matters. I believe these are real athletes in a real locker room and that's no easy trick. Most sports movies fail miserably in this regard because it's difficult for an actor to portray a professional athlete.
The Other Characters as Pieces of a Man
Dr. Buss plays a small role in this episode which was an incredibly brave move and it works. While Abdul-Jabbar is struggling to reconcile what he has become as compared to the youthful energy and enthusiasm of Johnson, we also see Dr. Buss struggling to put together his pieces as well. Can he step back from the edge of the cliff and admire the view?
Will Abdul-Jabbar add another piece in his journey? Can Magic Johnson become more than a fragment, a single piece of a man? Can Jack McKinney put together the final piece that he's been striving for all his life?
The Importance of Dialog
This episode functions on many levels. The conversation between Heywood and Abdul-Jabbar in regards to young Magic is thoughtful and moves the story forward.
The disagreement between McKinney and Abdul-Jabbar where the later exactly predicts the result of his performance is profoundly interesting. McKinney realizes that Abdul-Jabbar knows what he's talking about. It brings their relationship to a new level.
The locker room fight between Johnson and Abdul-Jabbar trying to put together their own pieces and find their place in all of this is raw and powerful.
The conversation between the financial advisor and Dr. Buss brings us a deeper understanding of his struggles to put together his own pieces. Even Jeanie finding Paula Abdul to lead the cheer squad is interesting.
Abdul-Jabbar at the mosque talking with the Imam moves the story toward its inevitable conclusion. We know what's going to happen but it's the journey that compels us to keep watching.
The dialog pulls the entire episode together. There is no telling in this episode, just showing. No exposition. Just actors performing, owning their characters and their lines, pulling us into their world.
Conclusion
You've probably figured out I liked this episode. Go watch it. Well done. Well done, indeed.
Tom Liberman