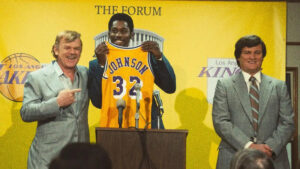 I'm largely enjoying the HBO series Winning Time. It covers the early period of Dr. Jerry Buss's ownership of the Los Angeles Lakers with star rookie Earvin 'Magic' Johnson. The story itself is compelling, the actors are doing a great job, the sets look good, it's the formula for a winning show.
Now, I've got my quibbles about the Fourth Wall breaking they do throughout the show. I also think they could do with less salacious content but overall I'm enjoying it. This week's episode other than some unnecessary sexing it up early was shaping up to be a great episode, the best of the series.
Then came the cartoon interlude that completely took me out of immersion. Let's talk about it.
The Good Stuff
We got to see some absolutely superb character development and acting. Hadley Robinson makes Jeanie Buss interesting and conflicted as her father's daughter. Sally Field is great as Jessie Buss the harsh but caring mother.
Solomon Hughes has a great handle on what he wants to do as Kareem Abdul-Jabbar. I don't know if Kareem is really like that but Hughes is throwing himself into the role. He is completely believable as the aloof captain of the club.
Tracy Letts is slaying it as the tormented genius Jack McKinney. I believe, I'm immersed, I'm enthralled. The look back at his sons' ruckus in the backseat said a thousand words with just a glance. The team rebelling against McKinney's novel ideas seemed realistic to me.
The athletic sessions, always difficult in a sports movie with actors not athletes, came across as believable. All the players seem like players, not actors, and that's not easy. Then came the cartoon interlude.
The Cartoon Interlude
We're watching the team struggle with McKinney's fast paced offense. We see Magic's attempt to get the ball to open players who are not ready for his court awareness. Then, suddenly, we get a cartoon interlude of cartoon Johnson talking directly to the camera. Not for five seconds, not for ten seconds, but on and on and on and on. It went on forever.
The cartoon interlude shocked me. It immediately ruined all my immersion in the episode up until then. I'm tempted to call it the most fundamentally flawed intrusion into show I've ever seen. It had no place, no function, no use.
Aftermath
The show then immediately picked up where it left off with excellent acting, great character interaction, drama, conflict, story. Happily, I forgot about the cartoon interlude just a few minutes after it made its unwelcome appearance.
As I sit here and write this blog, I'm still in somewhat of a state of disbelieve. Did the cartoon interlude actually happen? Maybe it was a bad dream? I am a Boomer and prone to napping. The rest of the episode was great.
Magic hand-squeezing the orange juice. Claire pitching Jeanie's ideas to Dr. Buss. It all worked except that stupid cartoon interlude.
Conclusion
I don't even really know what to say. Perhaps I should just forget about the cartoon interlude altogether. Did anybody like it?

Loading ...
Tom Liberman