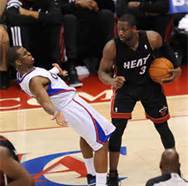 I wrote the other day about a situation in baseball where the players actively deceived the umpire and one of the big questions that is plaguing the NBA playoffs this year is a related issued called flopping. It's not only basketball that suffers from this "strategy" as soccer players routinely hit the ground as if they've been brutalized and even in the tough-guy NFL I frequently see the instigator of a little scuffle suddenly fall down from a light tap in order to get a personal foul penalty called on the other team.
To pretend in this manner is called flopping. Flopping is not good for the sport, the fans, the officials, or the players. It is deceit. It is trying to gain an unfair advantage by lying to the officials. The NBA and EUFA (European soccer's ruling body) are trying to cut down on this practice by calling penalties on the person faking and also fining said individuals. I think this is the correct policy to pursue.
Flopping, embellishing, working the refs; all these things are cheating. It is certainly an acceptable form of cheating. It is certainly practiced far and wide in virtually every professional sport, but it is cheating, plain and simple and I'm tired of it. I'm tired of it when the player for the team for which I am barracking (that's the Australian word for rooting and I like it) does it and it infuriates me when an opposing player does it. It's out of hand and it should stop.
The question becomes how do we get it to stop? One way is the current system wherein officials call a penalty of some sort on the person flopping. Another is for the league to review video after the game and issue fines for flopping. I wouldn't even mind some shaming by posting mandatory pictures in the locker rooms around the league of the most egregious violation. All these methods are legitimate. I'm on record as being for methods of officiating games that remove the human element and these tools will reduce flopping also. The reality is that flopping would stop almost instantly if the players themselves would stop doing it, if they would stop cheating and try to win through their legitimate talents.
Mike Golic of ESPN radio's Mike and Mike in the morning often says that he doesn't blame the players for doing whatever it takes to win. He played the game himself and his opinion has enormous sway. I disagree with him. I think this winning at all costs mentality is damaging to sports and dangerous for our country as a whole. One of the things that made the United States great was the work ethic of its people. Work hard, play hard. Work fair, play fair.
I would ask Golic if he taught his sons and daughters to lie to get a better grade? To lie to beat out an opponent? That's all flopping is, lying to get a favorable outcome.
Flopping is an embarrassment to the player, to the team, to the league and there was a time in the United States where integrity in defeat was admired more than winning at all costs. If we don't think that by allowing floppers to influence the outcome of events we aren't teaching people that they should flop in non-sporting venues then we are fooling ourselves. We are raising generations of floppers. They will flop at school to get a better grade, flop at home to get out of doing the dishes, flop at work to get a co-worker fired. Do we want floppers running this country or do we want the best and brightest? Would you promote a flopper at work over a hard worker? Have you witnessed floppers getting ahead at work? Flopping isn't just for the NBA, it's epidemic and it's hurting our country.
It starts with personal integrity and setting an example. Explain why it's wrong even if your team gains an advantage. Boo, particularly when it's a player for your team doing the flopping. Most of all, don't ever flop yourself! Give it your all and shake the other person's hand if you are defeated. That's what being an American is all about, that's what builds friendship, that's what builds admiration, that's what builds a nation.
Tom Liberman
Sword and Sorcery fantasy with a Libertarian Twist
Current Release: The Sword of Water (300+ pages of flashing blades)
Next Release: The Spear of the Hunt