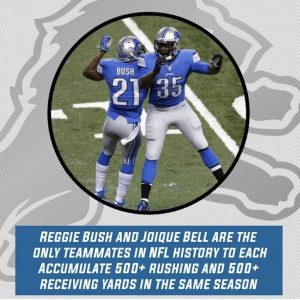 An article from Lions Wire, a news outlet associated with the NFL's Detroit Lions, claims: Reggie Bush takes shot at Lions, calls them cheap. Is it true or is just typical clickbait nonsense? I'm guessing you might already know the answer because this is an article in my Misleading Headline series but I'll go ahead and finish the job.
The story is relatively simple. There was an image displaying Bush and fellow running back Joique Bell celebrating as teammates on the Detroit Lions. Bush tweeted the image with his own comment that "And then we got cut because they wanted to go cheaper." It's a factually true statement. The Lions were interested in cutting payroll because of the salary cap demands in the NFL. They drafted younger players and cut both Bush and Bell.
The move didn't work out particularly well for the Lions in that the new running backs were not nearly as productive as Bush and Bell. That is somewhat beside the point. Bush didn't say the Lions were cheap. He said they made a football decision based on payroll. Nor do I even think it was much of a shot at the Lions.
I can't know for sure what Bush was thinking but I imagine he saw the picture and remembered the next season he was cut from the team in a payroll savings move and commented accurately upon this fact. Maybe he is bitter about it but, in this case, I think he was merely stating a fact rather than taking a shot at anyone.
Tom Liberman