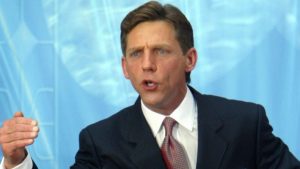 There is a story breaking about a woman suing the Church of Scientology and its chairman, David Miscavige for, among other things, sex trafficking. I'm convinced this lawsuit was spurred by the conviction of NVIXM founder Keith Raniere over similar charges.
I wrote a blog back in April of 2018 about why charging Raniere and his associates with a crime for their sex cult activities was a bad idea and the subsequent conviction and this lawsuit further hardens my position. Basically, if anyone, for any reason, stays somewhere where perhaps they don't really want to stay, they are going to be able to bring charges against whatever entity convinced them to stay.
I would guess your first reaction would be this is a good thing. No one should be convinced to stay somewhere they don't want to stay. However, I don't think there is an organization in the country where someone hasn't been talked into or threatened in some way in order to make them stay. It is common behavior for a church to threaten anyone who is thinking about leaving with ostracization from the religious community. Anyone who decides to stay in the church to avoid such is now a victim of human trafficking in accordance to the way those ridiculous laws were written. The church is liable and the leaders, like Miscavige, are subject to imprisonment.
It's not just churches, it's virtually every voluntary organization in the world. People will always have doubts about continuing to be a member of such groups and if they are told about certain consequences should they choose to leave, it can easily be construed as a threat and thus subject to these poorly imagined laws that are on the books in virtually every state in the nation.
Don't get me wrong, if someone is physically restrained, drugged into submission, blackmailed, or otherwise coerced into staying; there should be an investigation to see if the law was broken. That being said, the way human trafficking laws are currently written, being interpreted, and enforced, I doubt there is a single one of us who hasn't been so victimized.
Is it possible a group of mean girls from the local junior high might be thrown in prison for threatening to refuse another girl entry into some social group if she refuses to join their clique? You may laugh but that's where we are heading and it is why we must be so careful not to legislate morality.
If someone wants to be a sex slave, or work long hours for some nonsense religious organization like that of Miscavige; that's their business. Not yours. Not mine. Not the governments.
Tom Liberman