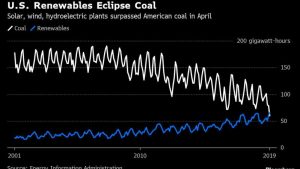 About ten or so years ago a friend of mine told me with absolute certainty that Clean Energy would never amount to more than two percent of the United States energy needs and that I was an idiot for saying otherwise. Well, in April 2019 clean energy accounted for a greater percentage of our energy than did coal. Bub, you were wrong and will continue to be more wrong with every passing year.
I'm not here to gloat about my clean energy predictions but to talk about how this revolution is happening not because of government but in spite of it. Various groups have long promoted solar, wind, and natural gas as better sources for energy because they don't cause nearly the pollution as generated by coal. To hasten this transition of energy away from coal, such people advocated massive government encouragement, read tax breaks and subsidies, to the purveyors of clean energy. I argued that instead of subsidizing clean energy, we should simply stop doing so for coal and oil.
President Obama and the democrats largely agreed with the sentiments expressed by the clean energy crowd. They implemented plans to help spread the use of such energy and had some successes and some failures.
Enter President Trump. He essentially has the opposite plan. He wants to encourage the use of coal and dispense with helping clean energy. He has had some successes and some failures in his plans.
The reality of the situation is quite easy to see from any graph showing production associated with coal and clean energy in the last twenty years. Coal rarely dropped below 150 gigawatt-hours of energy prior to 2010. Now they never even reach this level and it is unlikely to ever rise that high again. The trend is obvious but what is driving it?
I'm happy to tell you; capitalism completely disassociated from government. Investors, builders, and entrepreneurs have no desire to invest in coal-based plants because there is more money to be made from clean energy power plants. If you're mining coal, working at a coal-fired plant, hauling coal on the railroad, or doing anything associated with coal; start making plans to do something else. Not today, not tomorrow, but eventually; capitalism is talking and it's not mincing words.
The most important thing to understand is this is all good and natural, as was the rise of coal in the first place. If government just stayed out of the energy business altogether, we'd likely be much further along in this process. If you enjoy breathing air and drinking water, you should be sad we are not.
Did the Obama era clean energy policies help promote them? Certainly. Have the Trump era coal energy policies helped extend the coal era? Certainly. Neither has a chance against the true forces of capitalism. Stop subsidizing energy altogether. It's best for all of us.
Tom Liberman