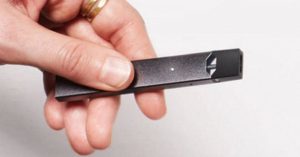 The various states and municipalities across the country are quite busy enacting laws to ban vaping for people under the age of 21. The federal government has gotten involved as well, regulating it as if it was a tobacco product. These laws are largely being enacted because of the rise in popularity of vaping among teenagers.
Let's be very clear about what municipalities, states, and the federal government are doing: vaping is popular and therefore we are making it a crime to do. We're not yet willing to start yet another War on Drugs by banning it for adults but we must protect the poor, deluded and innocent children. It is our job as politicians to tell parents they can't let their children vape. It is our job as politicians to tell nineteen and twenty-year old, legal adults, we know better for them then they do themselves.
Is vaping bad for you? The evidence is still out for non-tobacco products but the use of tobacco is clearly unhealthy as is the use of alcohol. The question becomes if it is acceptable for the various levels of government to decide for your children what they should and shouldn't be doing in that regard.
As you might be able guess, in general I'm opposed to such bans from an ideological point of view. I'm for the legalization of all drugs but the question becomes a little bit stickier when we are talking about people not legally competent, children in this case. I'm clearly and unreservedly against laws preventing adults from knowingly and eagerly ingesting whatever substance they want, even if it is unhealthy.
The government does have some responsibility to protect children but that largely should be invoked when parents are abusive or irresponsible. It is largely a parent's responsibility to ensure their child behaves in particular ways. When we involve law enforcement officers, we are making an enormous problem for ourselves, one that dwarfs the issue it is designed to prevent.
Imagine, fanciful as it might seem, a nineteen-year-old wants to vape and her or his parents have no problem with it. We are now making that person a criminal. Law enforcement must now arrest and steal from, that is to say fine, that person.
In addition, we are potentially legislating a business into bankruptcy with all its attendant casualties. We don't like vaping and therefore we shall attempt to remove a category of consumers from being able to purchase and use the product. This has an enormous impact on the vendors, suppliers, retail outlets, transporters, and varied other players.
All laws are not bad but we must balance the freedom they take from us and the harm they do against the benefit they promise. In this case I see some benefit, it is certain less teens will vape if there is a law against such. I also see harm in the criminality that will be spawned and the black markets that will certainly arise to sell such products to teens. I absolutely oppose the idea nineteen and twenty-year-old women and men are unable to make informed decisions about their vaping habits.
I shouldn't be telling them to vape or not to vape and neither should the government.
Tom Liberman