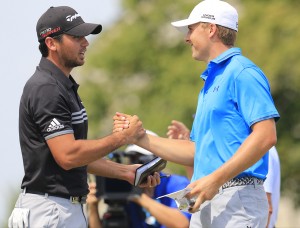 One of my favorite sporting events of the season is the PGA Championship; thanks in no small part to the enlightened view those in charge take as far as online viewers are concerned. This attitude along with the incredible final round between the two leaders brought to mind why competition is the method by which the best results in life are found.
There are two lessons to be learned here. Both from the streaming coverage provided during the PGA championship and the spirited final round of the event itself between Jason Day and Jordan Spieth.
First as to the viewing pleasure I enjoyed.
In the last few years there's been a slow but steady shift of people away from traditional television viewing habits to online viewing. I'm one of those that no longer has a traditional television. I consume media via my computer using tools like Hulu, NetFlix, ESPN3, and other content providers. It saves me money and allows me access to only the events I want to watch. The problem is that many content providers don't see those of us who have eschewed television as a market. Major League Baseball, for example, has a blackout policy that means if I purchase their baseball package I can watch every game of every team except my home market team, the St. Louis Cardinals. Yeah, so, not buying that.
The PGA tour has a livestream channel but whether or not the event broadcasts is rather haphazard from week to week. Some events show nothing at all while others show only on Thursday and Friday, others show all week. The PGA 2015 Championship has a plethora of streaming coverage and have had so for the last few years. They embrace online viewers like myself and I'm grateful to them. They have a featured group channel which is outstanding. You get to watch one group for an entire round. They have a par 3 channel. They have a general broadcast channel.
The point here is that when you broadcast a sporting event you want the largest possible audience. Yes there are advertisements but I gladly put up with them. It is my opinion that by embracing, rather than fearing and excluding, the growing online audience the PGA promotes their product. They bring in new fans. They do themselves, the game of golf, and the fans of golf a great service. That's smart business. The rise of online media consumption, as opposed to traditional television viewing, has increased the number of ways I can watch a golf event. It has given me more options and more entertainment. It also generates new revenue for the content creators and providers. All good things.
As to the second reason competition is great.
The 2015 PGA Championship pitted Jason Day and Jordan Spieth in the final round. Often times these sorts of pairing don't result in a great competition because one player does well while the other does poorly. That was not the case this time. Day and Spieth both played well and the drama was intense and exciting. Day eventually emerged triumphant by a seemingly large margin but the reality is that until the last hole there was tremendous doubt. That made for a gripping story and an entertaining event.
Competition is a good thing.
Good for the players who must rise to occasion and reach heights they would not have otherwise achieved. Good for the audience who watches such drama. Good for the content providers who get advertising dollars. Good for advertisers who get good publicity for their spends.
And, as Spieth's sportsmanship in defeat so ably displayed, there were no real losers. Yes, Day won but Spieth gained as well. As did we all.
Tom Liberman
Sword and Sorcery fantasy with a Libertarian Ideology
Current Release: The Girl in Glass I: Apparition
Next Release: The Gray Horn