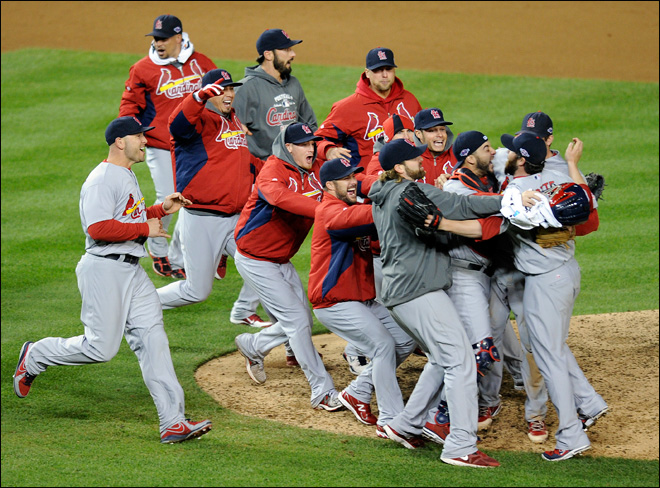 Today is about my baseball team, yes, I said it, "my team". I don't own them. I don't make any personnel or management decisions. But, the Cardinals are my team and they will be until the day I die.
The question I ask today is what motivates me to call them "my team". What motivates sports fans the world over to reference their team in the same way and why this is a good thing?
There are many great fans out there who root for their team. I'm even willing to concede that their might be some, semi-rational, people who feel that way about the Chicago Cubs. A sports team gives us something to passionately cheer. We hurt when they lose, darn you Don Denkinger, we go mad when they win, hurrah Pete Kozma. We have memories that last a lifetime.
I was born and raised in St. Louis and my mother is a huge Cardinal fan from her own childhood. My earliest memories are sitting around the living room listening to the games. I think many a fan has a history not dissimilar from that. They grow up rooting for a team and never change allegiances. There are others who come to sports later in life and find a team to cheer but it's all relatively the same. In the end, whatever the team, whatever the town, it's "my team".
The reason I think it's a good thing is because as much as I dislike the Chicago Cubs and their fans; I recognize that they are just like me, fans, not enemies. Sports is war without the death and maiming. That's a good version of war as far as I'm concerned. I'm quite certain there are Washington National fans out there who are pretty angry with my Cardinals right about now but I don't think any of them are going to do anything violent. They'll cinch down their caps and think about next year. As a Cardinal fan I've been fortunate these last few years but I've tightened up my Rams cap and Blues cap many, many times. I know the pain. All fans do.
I'll go to work next week and teach class to someone who roots for the Cubs or Nationals and I'll do my best without reservation, without hesitation. I'll help them accomplish whatever they need to do. Our team at work will build a website for a San Francisco company. Our network engineers will solve a major problem for a company owned by a Yankees fan.
We cheer for our team but recognize that life, unlike sports, is about trying to get that win/win scenario. If we all work together we can achieve amazing things. Sports gives us that black and white outlet and then we can return to the normal, shades of gray, daily routine.
I guess I'm just saying that if a Cubs fan and a Cardinal fan can get married, can't Republicans and Democrats try to pass legislation that will help us all? Can't we root for our team during the game but work together afterwards?
But, I don't want to slip too deeply into politics because there is something much more important going on … Cardinals v. Giants!
Tom Liberman