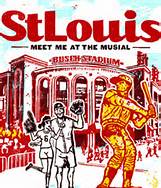 It's a good time to be a St. Louis Cardinal fan as we head back to the World Series for the fourth time in ten years. We have a bevy of strong young pitchers and a good mix of veteran players that would seem to bode well for our future.
The Cardinals just emerged from a tough series with the Los Angeles Dodgers and there's a lot of talk about Mickey Mouse, disrespect, and the Best Fans in Baseball.
For those of you who are new to baseball, there is a theory that St. Louis is home to the "best fans in baseball". Best seems to mean that we treat other teams with respect, we understand the game from a fundamental level, and turn out to support our Cardinals in astounding numbers despite the relatively small size of our metropolitan area.
This moniker is a source of pride to many Cardinal fans and a red flag of outrageous hubris to those who do not like the Cardinals or their fans.
I've been a Cardinal fan at least forty-four years and possibly longer than that although my memories before my fifth birthday are fairly non-existent. I can say without hesitation that the people of St. Louis love the Cardinals. That they turn out by the millions to cheer on their team, that many fans are knowledgeable about the game, and often applaud opponents who make astounding plays.
I can also say without reservation that there are plenty of idiot fans who yelled at Hanley Ramirez for being a cry-baby after Joe Kelly broke his ribs with a fastball. I know that San Francisco Giant fans filled their park to a higher capacity than did the Cardinals despite finishing in last place. I saw Chicago Cubs fans standing in respectful silence after the death Darryl Kile.
I've been to Philadelphia and seen their great fans firsthand. While attending Cardinal games over the years I've spoken with respectful and knowledgeable fans from probably every team in the National League .
As a Cardinal fan I pose a simple question: Would the Best Fans in Baseball feel compelled to call themselves the "Best Fans in Baseball" with nauseating regularity?
I say no. I find the whole thing bothersome, an ego stroking exercise in stupidity. Stop flashing it on the video screen, stop writing it in every comment, and stop believing it to be actually true.
St. Louis has had tremendous success in baseball thanks to ownership, management, the fans, and mostly the great players that take the field and win the games.
As a proud Cardinal fan I suggest that we stop telling people we are the best fans in baseball and instead show them.
Cheer the team in victory, support them in defeat, and respect our opponents. Should we lose the game or the series act dignified in defeat. If we are fortunate enough to win, be magnanimous in victory.
When we respect each other we make the world a better place.
There are great fans in Chicago, Philadelphia, New York, Los Angeles, Dallas, Houston, Milwaukee, Cincinnati, Pittsburgh, and everywhere else teams play baseball.
Fans are a collective. I alone cannot make the fans of the Cardinals the best fans in baseball. No one can. I can only be the best fan I can be. So should we all.
Tom Liberman
Sword and Sorcery fantasy with a Libertarian Ideology
Current Release: The Sword of Water ($2.99 for a full length novel)
Next Release: The Spear of the Hunt (Out very soon!)