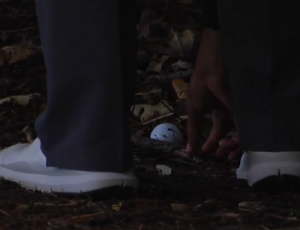 Professional Golf has a lot of rules and, prior to cameras being pointed at virtually every shot, it was largely up to players to report violations on their own.
In recent years fans carefully watching ever-present video have taken to calling in what they perceive as violations. That has happened again to Tiger Woods for moving a ball while removing a loose impediment. The rule is here.
I'm not against the enforcement of rules via video replay and I think making a correct decision is paramount. What I am against is overly picky enforcement of rules against what is not clearly a violation. I think the benefit of the doubt generally needs to be that no violation has occurred unless it clearly has happened.
I'm also against enforcement of rules against one player or team when the same is not done for everyone in the game. In this case Woods is clearly subject to more scrutiny because of both his popularity and unpopularity. The camera is on every single shot he makes whereas other players are not subject to the same level of observation.
In the incident in question the ball seems to wiggle but not actually change position. The rule states that if a ball moves it must be replaced in its original position. To my way of thinking, and I could be wrong about this interpretation, if the ball can't be moved back to its starting spot because it's already there, then perhaps the ball hasn't really moved at all.
I suppose it could be argued that if a ball rolled several inches and then rolled back to its original location it clearly moved although hasn't changed position. I would actually argue that the ball hasn't really moved even under those circumstances. No harm, no foul. It's in the original spot and hasn't given the player any advantage.
That being said, my big problem here is the uneven application of video to golfers in a tournament. Popular, or unpopular, players are subject to more scrutiny and that in itself is unfair. Imagine if a baseball game involving my both hugely popular and much hated St. Louis Cardinals had video replay while a game involving the lowly Chicago Cubs did not. Say a similar event happens in both games but the Cardinals are punished because of replay whereas the Cubs are not.
The rules have to apply equally to all contestants otherwise they are not really rules at all. In this case Tiger is being singled out because of the large number of people who want to see his every shot.
I fully understand the desire to get the call right and I support that idea … to a point. When the violation is questionable, when the ruling comes long after an incident which was not ruled a problem at the time, when the player or team is subject to a far higher bar than other players or teams, well, I think this insistence on the letter of the law is petty.
Let them play!
Tell me what you think in the poll!
Tom Liberman
Sword and Sorcery fantasy with a Libertarian Twist
Current Release: The Sword of Water ($2.99 for a full length eBook)
Upcoming Release: The Spear of the Hunt