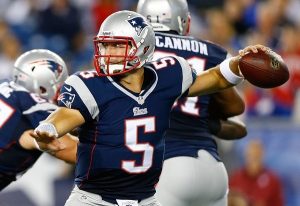 There's an interesting story in the sports world about a fellow named Tim Tebow that is drawing a considerable amount of attention.
First a little background. Tebow was a star quarterback in college although his skills did not translate very well to the NFL. Many people predicted that, for various reasons, he would never make it as a quarterback in that league.
He was drafted in the first round by the Denver Broncos well above where scouts had rated him to be picked. His performance with the Broncos was statistically poor although the team won games with him at the helm and went to the playoffs. Eventually he was replaced by Peyton Manning and tried to gain employment with various other teams. It is this part of his story that garners my interest. Tebow was eventually signed by the New England Patriots who are quarterbacked by Tom Brady. Brady is considered by many as one of the greatest quarterbacks in league history.
In excerpts from his soon to be released novel Tebow expresses the idea that he thought he was going to be the quarterback of the future with New England. That he would learn from Brady, take over the team, and lead them to Super Bowl championships. Most people who watched Tebow play and practice consider this opinion delusional. By almost all standards of evidence they were correct. Tebow was cut by the Patriots in the preseason proving those doubters correct. But there's more to it than that, I think. That's what I want to examine. Is there something to be said for boundless optimism even if the evidence strongly negates hope?
It's good to be confident in your abilities and to take on challenges that seem beyond your current skills. People who have this delusional belief in self often end up succeeding where those of a more grounded nature, me for example, would never even make the attempt. Of course, they end up failing spectacularly as well. That is the more general result of taking on a challenge that is beyond your skills.
It's clear Tebow's dreams of becoming a great quarterback and winning Super Bowls, just as his chances of being a major league baseball player, were and are extremely unlikely. But the idea of being a player in the NFL was not. He was a player in the NFL. He had high goals but went about achieving them by working at lower level goals. Making the team. Learning the offense. He's a hard worker. He doesn't quit easily.
I write my novels and I work hard at it. I've written nine. I dream of my books selling millions of copies. I dream of movies and television shows being fashioned from them. Those dreams are about as likely as Tebow's Super Bowl dreams. But I won't quite writing. I'll keep trying to become a better writer. I'll try to write better novels. I'll try to promote my novels and my blog.
Dream high but act realistically. Work hard but have alternate plans in case of failure. People who have delusions about their own abilities often succeed beyond all realistic expectations.
You never know, sometimes that self-delusion might somehow result in amazing success. Some of the greatest stories in history were made by people who were more than a bit self-delusional about their abilities.
Tom Liberman
Sword and Sorcery fantasy with a Libertarian Ideology
Current Release: The Gray Horn
Next Release: For the Gray