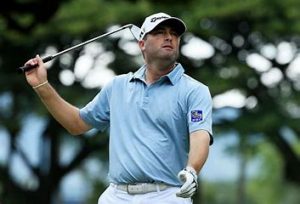 There's an interesting story this week in the golfing world related to a long wait at the end of the 2020 Sony Open. Ryan Palmer hit a shot that looked like it went out of bounds; rather than playing a provisional ball, he chose to go look for his original and then, when it couldn't be found, went back and played a second shot. This while the tournament leaders had a long wait of forty minutes on the final hole.
Normally when a player hits a shot like Palmer's they will play a provisional ball so that, if the original can't be found, they can immediately go to that one and continue play. Palmer chose not to do this which caused the long wait because he had to go back, setup and hit another shot, then finish the hole. The controversy is bigger because the two players waiting behind him were the leaders and such a long wait can, obviously, disrupt your round. In fact, one of the players hit a poor shot and wound up losing the tournament.
Palmer heard some angry opinions about his decision but remains, at the time I'm writing this article, unapologetic. He has stated that he'd do it the same way again in the future.
Let's first get rid of the notion that I, or anyone else, knows better what Palmer should have done than he himself. It was his decision to make and he made it. Hitting a provisional ball in that situation is completely optional and he was not required to do so.
That being said, let's talk about what a reasonable person might have done and if it's permissible to criticize Palmer.
The entire purpose of hitting a provisional ball is to alleviate the wait of competitors behind you. It's the polite thing to do. This was the final hole of a tournament and Palmer was well-aware the two players behind him were vying for the tournament lead. At the time he made his decision he was still in contention himself although the penalty he incurred from his wayward stroke dropped him down the leaderboard.
There is no doubt in my mind that a polite golfer would have taken the provisional ball. That even in the heat of the moment a golfer who neglected to do so would offer up a mea culpa and apologize to the golfers affected by the decision.
Palmer is choosing to be impolite. He chose to ignore the possibility of the lost ball and potentially inconvenience the players behind him. There is absolutely nothing wrong with people saying exactly that. Just as it is Palmer's right to be unapologetic.
People are allowed to be rude and they don't have to apologize but you get to, going forward, treat them appropriately based on that knowledge, that's your decision. The other competitors on the PGA tour can deal with Palmer in any way they want, Patrick Reed is learning that lesson, or not learning it, even as we speak.
Tom Liberman