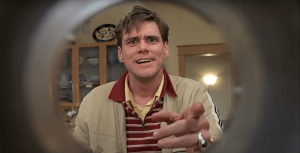 There are a number of people who think they are the subject of a Reality Show much like Truman Burbank from the Truman Show. They are delusional, certainly, but what is undeniable is that no one had such a mental delusion prior to the invention of television. Even after the invention of television it was not a heard about mental problem until after the Truman Show became part of the public conscious. What does that tell us about the human mind?
It wasn't until H. G. Wells wrote the War of the Worlds that people began to see aliens and UFOs. No one saw a leprechaun until they read, or were told, about them first. This is reality, a concept from which the people who suffer these delusions are somewhat divorced. But then, aren't we all? Our memories are faulty, our senses unreliable, and our confirmation bias on high alert most of the time. It's no wonder people think they are the subject of a reality television show.
I have a friend who, despite being apparently sane, intelligent, and rational, firmly believes he is the subject of an alien experiment where he is the only "real" person on the planet and everyone else is part of the research. Is he insane? Or is his delusional normal? Is everyone delusional to some degree or another? Is he Truman Burbank?
We are, undeniably, the center of our own universe, just like Truman Burbank. When someone I know moves to a location beyond my ability to sense them, they essentially disappear. I have no idea what they are doing or how they are conducting their life until I see them again. We are, equally undeniably, not the center of the real universe. We are not the subject of alien experimentation or the star of a television show in which the rest of reality is an illusion designed to fool us.
What happens that causes people like my friend, or those with the Truman Delusion, to lose their grip on reality? If they continue to function in normal society, is it really that damaging? Do we not have functioning drug and alcohol addicts around us every day? If they can manage to keep their delusion, or addiction, from putting them in a mental hospital, what harm is there?
I'm not going to write a dissertation on these many questions. I think the problems of mental health and self-delusion are complex and not easily addressed. I'll try to sum up my thoughts in a reasonable way.
I think we should all strive to do a better job of being critical thinkers. I am not Truman Burbank and neither are you. Don't believe what you want because it boosts your ego, trust what evidence shows is the most probable truth. Be a critical thinker.
Take this attitude toward all things in life. What car to buy. What food to eat. For what politician to vote. What novel to read.
Tom Liberman