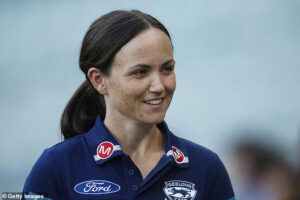 Daisy Pearce barred from second AFL club's dressing room blares the misleading headline from the Daily Mail. AFL stands for Australian Football League. The headline seems to indicate two teams barred a woman from their dressing room leaving the impression this happened because of her gender.
This misleading headline, like most of its ilk, isn't actually a lie. It's just misleading. The reality is that Daisy Pearce was, in fact, barred from the dressing rooms of both Brisbane Lions and Richmond Tigers locker rooms. But why?
Because she's a Woman?
Nope. It's because she's an assistant coach for an opposing team. Representatives from both clubs make it clear the reason is her dual job as a commentator for Channel Seven in Australia and her job as an assistant coach.
They fear she might gain access to information in the locker room that she can use in preparation with the Geelong Cats. It's not an unreasonable request and several other assistant coaches filled dual roles with media outlets in the past with similar results.
Who is Daisy Pearce?
Daisy Pearce is a former Australian Football League Women's champion player who played for the Melbourne Demons with distinction. She was named to the All-Australia team three times during her career in addition to being best and fairest on her own club three times as well.
She retired in 2022 and took up a job as a commentator for Channel Seven. This year she accepted a job as an assistant coach while continuing her duties for the television outlet.
What's it all Mean?
Channel Seven commentated on the situation with a representative saying they expected some teams might take that rout with Daisy Pearce and her job didn't require a presence in the locker room. In other words, it's not really a story at all.
Conclusion
The headline draws in clicks. It did so for me. I thought, ah, a Daisy Pearce must have done something wrong to get banned. A woman in the locker room? There must be something salacious. Nope, just a plain old misleading headline. Nothing to see here. Do you think the story would be in the Daily Mail if a man in the some position received a ban?