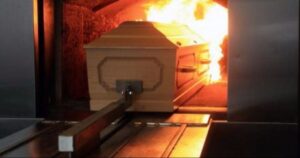 There's an interesting lawsuit making its way through the courts in Arkansas against a funeral home that cremated the remains of man against his and his family's wishes. The man believed that if cremated his body could not ascend to heaven during the rapture. The lawsuit indicates the cremation caused significant emotional distress on the family.
It's been a while since I wrote a legal blog as I've been preoccupied with entertainment and I thought I'd chime in on this one, particularly after reading the comments. The comment thread on the story seems focused on the idea that god can do anything and the man's beliefs and that of his family are wrong.
I'm happy to say your beliefs are not on trial, whatever they might be.
The Rapture Lawsuit
It seems pretty clear to me that when the Roller-McNutt Funeral Home cremated the remains of Harold D. Lee they violated a contract. They certainly acknowledge as much, waived all fees and returned the deposit to the family.
The family members believe Lee's cremation means he cannot ascend to heaven. Thus, the rapture lawsuit. I'm not going to get deeply into religion in this blog as we're talking law, but we must consider it to some degree. Here in the United States, we have something called Freedom of Religion. People can have whatever religious beliefs they want without fear of legal ramifications.
Anguish
If the Lee family believes Harold can't get into heaven, then that's what they believe. It doesn't matter the vast majority of comments involved the idea an all-powerful deity isn't restricted by a cremation. The comments largely ridiculed the family for this belief. The Lee family believes it so, and that is their right. That's all that matters. Not your opinion nor my opinion of their grief.
It's important to understand mental anguish in regards to the rapture lawsuit is not debatable. If they claim to be anguished, they are anguished. You cannot prove someone is or is not suffering mental anguish. As nonsensical as this atheist finds their beliefs, I cannot argue against their anguish.
Damages
The thing the court must decide in this rapture lawsuit is what actual damages the family suffered. Seeing as the funeral home refunded all fees there are no immediate financial damages. However, if the family can prove the anguish of the event caused them to miss days of work, firing from work, suffering financially, then the rapture lawsuit has merit.
It's clear the funeral home made a terrible mistake. Personally, I want to be chucked, wearing only my beloved St. Louis Cardinals jacket, into a hole and left to the worms. Sorry for any damage that image burned into your brain. If the funeral home did something else, it's possible my family members might be anguished. No matter her or his anguish, they have to prove damages in the lawsuit.
Getting into Heaven
The court cannot offer damages for the ascension, or lack thereof, of Harold into heaven. You cannot assign a price that. Nor could my family sue religious organization if they performed some rites that supposedly sent my non-existent spirit to heaven.
I won't mince words here. I don't want to go to your imaginary heaven. I'm morally and ethically disgusted by the Judeo-Christian-Islamic god as depicted in your holy books. I want no part of it. But my family can no more sue for damages for you believing I ascended than the Lee family can sue for their belief in the lack of his ascension.
Conclusion
If the Lee family can prove their emotional distress caused them damages, the funeral home will have to pay. They made a terrible mistake and the family member's anguish cannot be debated.
Tom Liberman