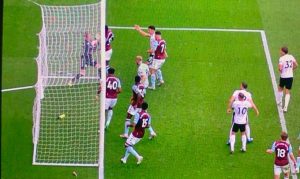 The Aston Villa futbol team is embroiled in an interesting situation that gives me the opportunity to speak about the ideas of Enlightened Self-Interest. Aston Villa was involved in two incidents, one last year and one recently and the way those situations played out brings interesting questions to mind in regards to what is best for the team. I've written about this before.
The incident a year ago involved Aston Villa and Leeds United. In that game Leeds United was fighting for promotion to the Premier League in English Futbol. I won't go into details but each year the best finishers in the lower division move up to the Premier League while the worst finishers in that league move down. There are enormous financial interests at stake because being in the Premier League is far more lucrative than being in the lower level.
In any case, Leeds scored a goal while an Aston Villa player lay injured on the pitch. The Aston Villa team largely stopped playing after the injury assuming that game would be stopped. It was not and Leeds, as I've stated scored. There was a huge kerfuffle and the manager of the Leeds team, Marcelo Biesla, instructed his players to allow Aston Villa to score uncontested to make up for the situation.
This year Aston Villa is at the bottom of the Premier League and facing relegation. In their game against Sheffield United their goalkeeper fell back into the net while holding the ball. This is a goal. The Video Review team somehow managed not to see this despite it being readily visible to other cameras and almost every fan and player at the game. Play went on. The head coach of the Aston Villa team, Dean Smith, did not allow Sheffield to score a goal at the next stoppage in play.
This leads us to the idea of enlightened self-interest. It is easy to argue Leeds acted against their own interests by allowing Aston Villa to score while it's equally easy to assume The Villa acted in their behalf by not conceding a goal. But, is this the case?
Leeds generated an enormous amount of goodwill by their gesture of sportsmanship. Their manager and the team as a whole are viewed upon as honorable and decent. Meanwhile, as you can well imagine, Dean Smith and his team are largely being vilified in the press and public forums.
Is the short-term gain of possibly getting to or staying in the Premier League worth the long-term loss of prestige and personal integrity? It's not a question that has easy answer and different people will put forward reasonable conclusions on both sides. This is often the case when dealing with life, there are no simple answers, despite what pundits might tell you.
Now, of course, I'm no wall-flower. I'm not going to bury my head in the sand and not have an opinion here. I'm not that sort of fellow. If you read my blogs and my novels, you'll know that I share my thoughts all too freely.
A pat on the back to Marcelo Biesla and Leeds United. You've got my support. A job well done. Dean Smith? Aston Villa? I won't be cheering you on, ever. Not that you care.
Tom Liberman