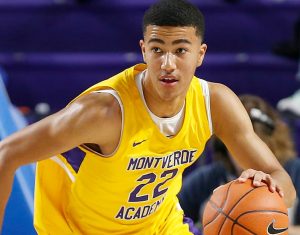 The Situation
A group of six of the best high school basketball teams in the country are forming their own league. The National Interscholastic Basketball Conference. They will play a regular season, special events, and a post-season tournament.
The organization will add two more teams before league play begins this year and there are certainly plans to expand further in the coming years.
Why is this being done? Let me quote Rashid Ghazi a partner at Paragon Marketing Group who will serve as commissioner of the NIBC. The NIBC represents a tremendous platform that combines elite-level basketball with excellent academics in a real campus setting. These six schools have outstanding histories and helped develop countless young men to achieve their dreams of excelling in both college and professional basketball.
Ha, I say. Ha, I repeat for emphasis. It's a cash grab.
My Problem with the NIBC
Don't get me wrong, I've got nothing against a nice cash grab. The fact six powerhouse high school basketball programs are forming the NIBC to make money doesn't bother me at all. Good for them. I recently wrote how elite teams in all leagues win virtually every championship. Largely because of enormous financial advantages over their less well-off counterparts.
What bothers me in this situation is the players and their families will make nothing. Not only will they make nothing but the laws of the United States of America make it essentially illegal for them to make money from their efforts.
These are the kids performing on the court and yet it is the leagues, the league offices, the venues, the officials, certainly commissioner Ghazi. Almost everyone but the kids will take all the money. It's actually against the law to pay the athletes and let them continue to play in the league. Once any athlete accepts payment, she or he is a professional and barred from amateur sport thanks to insane rules upheld by judges in this supposedly free country.
It's no far-fetched leap to see an eventual television contract for the league, shady associations with college recruiters tied to college coaches, and any other corruption that comes when this much money is involved.
Conclusion
The NIBC is nothing more than extension of the amoral NCAA which exploits its workforce while making billions of dollars. It's not right for the NCAA and it's not right for the NIBC.
How long before we see Crack Baby Athletic Association? My disgust is immeasurable.
Tom Liberman