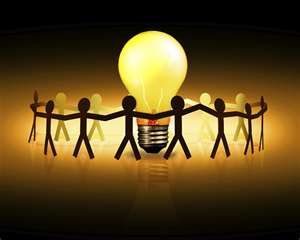 I've been discussing intelligence all week long and now it's time for my conclusions. Brace yourself because, as usual, I'm not out to make friends.
It is clear some people are more intelligent than other people and that intelligence plays an important role in the advancement of both individuals and societies. The Bell Curve speculates that government policies that allow poor people, who do less-well on IQ tests, to have more children has a negative effect on the average intelligence of the United States  and thus is detrimental to the health of the nation.
I have serious problems with almost all of the principles of both measuring intelligence by IQ tests and trying to determine, through government policy, the best way to breed for intelligence. IQ tests, it seems to me, are most certainly culturally biased. Immigrant groups will always do poorly but as they become amalgamated with the culture, or as the culture changes with immigration, they will drift towards median scores.
Blacks traditionally do poorly on IQ tests and I can tell you exactly why. Black culture largely associates education and success with being "white". It has nothing to do with intelligence potentials. I went to a highly mixed race school. Far and away the most brutalized students were the "smart" black kids who took upper level courses with the white kids. They were assaulted for trying to be "white". Many prominent blacks have pointed this out over the years and things will not change for blacks until they overcome this cultural belief.
A culture that values education will produce kids that score high on IQ tests. Bottom line. Perhaps there is something to be said for inheritable intelligence but this limits the potential ceiling of achievement. By this I mean that I can play offensive left tackle as an eight year old for my block football team but I cannot play that position for the St. Louis Rams because I am limited in my ceiling by my physical stature. Everyone, with the exception of the mentally handicapped, is capable of thinking at a reasonable level and scoring reasonably well on IQ tests. So, in all practical terms intelligence has nothing to do with wealth, race, creed, or anything else. If parents and community value education and intelligence then the results will follow.
I absolutely agree that intelligence, or high IQ, is a predictor of success. Success is good. We want people who achieve. The more people who achieve the better for society. I don't really much care about whether high IQ scores are exact predictors of intelligence or not. They are close enough I suppose but it doesn't matter. If you are intelligent you will likely do better in life. If we threw IQ tests away we'd still have intelligent people, just not a snobby way to quantify them.
So, that's the bottom line. We want intelligent people. We want to encourage all people of all cultures to value education so they will get good jobs, produce, achieve, elevate society. How do we do it? Reward achievers! That's Ayn Rand, that's Objectivism, that's Critical Thinking. That is everything I talk about in this blog.
There's nothing wrong with making sure our schools have the best equipment, that our teachers have all the aids necessary to be great, to encourage parents to be a part of their child's schooling process, and to find the best ways that people learn and implement those methods. I'm all for those things.
The thing we can't do, and this is where I'm in partial agreement with The Bell Curve, is reward stupidity. There should be a safety net. There are disabled people, mentally retarded people, people who fall on hard times, and we do not want to become a nation where those sorts of people are discarded and brutalized. But, we can't continue to reward failure.
When it comes to wanting to stop rewarding failure so-called Conservatives seem to focus on the poor, and I agree that changes must be made with welfare, but the reality is that far and away most rewards to stupidity go to business. Our failed politicians, Democrat and Republican, still rake in massive amounts of bribes, er campaign contributions, in the hopes that they will pass laws to give one business an unfair advantage or bail-out yet another round of failed enterprises. Stop the madness!
Government get out of the tax-break business and social engineering. It leads to failure. Let good business succeed on its merits, let educated people succeed because of their intelligence.
And parents, most of all, take a hard-core, hard-line, day-to-day interest in your child's education. Smart is good. Dumb is bad. And I'll stand by that until the day I die.
Tell me what you think in the comments and share if you feel like it!
Tom Liberman
Sword and Sorcery fantasy with a Libertarian Twist