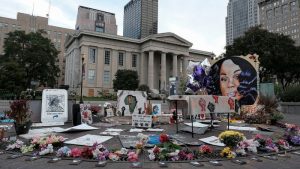 The Breonna Taylor case is making a lot of headlines and people are upset only one criminal charge, reckless endangerment, was filed against the officers. The problem isn't that a single charge was filed, the problem is that everything the officers did, except shooting blindly into a room, was perfectly legal. The problem is that none of them can be charged with a crime.
The problem is that police can, and all to frequently do, murder people legally. It's vitally important to understand this is a problem for the people and for the police, both are the victims here.
This is the state of our legal system as a result of the failed War on Drugs that allows police to kill with legal impunity, to steal your money with legal impunity, to throw flashbang grenades into baby cribs with impunity, to intimidate, harass, abuse, imprison, torture, absolutely legally. That's the problem and if you don't see it, you'll be a victim soon enough under the unlikely circumstances that you have not been already.
The problem isn't the police, the problem is our society, our laws, our willingness to give up freedom and reduce safety at the same time.
Many right-wing Trump supporters out there are angry about what is going on to poor people in this nation. What's happening to poor black people is exactly why you voted for Trump, except it was being done to you. You in West Virginia, Alabama, Mississippi, and lots of other places were left out when the rich got richer, laws designed to protect wealthy people left you out in the cold in a crap job without enough money to feed your kids and no hope for advancement.
Farmers see their land taken by corporate bankers. Energy workers see their livelihood being taken from them. President Trump promised you he'd stop it all but instead he's redirected your anger to poor, largely minority people, who are being trampled upon in exactly the same way. These people are your allies in this fight. Antifa, Alt-Right, Libertarian, BLM, the police themselves; the Trumps and Pelosis of the world want you to fight each other so you don't line them up against a wall and put a clip into their center mass.
Breonna Taylor is dead because you gave away your freedom. You stood by and watched as politicians passed laws for the War on Drug, the War Powers Act, The National Emergency Act. You stood by while local officials made it impossible for you to drive to work without violating the law and if you get on the wrong side of the police department, they will figure out a way to fine you to within an inch of your life to finance their bloated government.
Breonna Taylor was absolutely murdered by police who got a stupid no-knock warrant to kick in her door with guns drawn because she was dating a guy who sold drugs. She was murdered and it's not against the law. That's the problem. Police officers, everyone wants to kill you because politicians have set you up to take the fall, no matter how much they pretend to be on your side, they are murdering you. They are sending you out to take bullets for them.
You all need to figure this out. All those organizations fighting each other in the streets of Louisville need to get together, then we will actually see change.
Tom Liberman