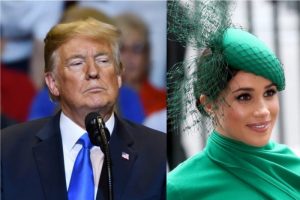 Narcissistic Personalities
In an attempt to anger the entirety of the human race I thought I'd write about how Meghan Markle and Donald Trump are pretty much the same person. It appears to me they clearly share a few traits; namely a long-term pattern of exaggerated feelings of self-importance, an excessive craving for admiration, and struggles with empathy.
It's called a narcissistic personality and the way both of them endlessly center their woes on the perceived behavior of others and refuse to accept any personal responsibility for the situations they find themselves in does not sit well with me.
Why You Support One and Not the Other
More to the point of this blog are the people who choose to support Meghan Markle and Donald Trump. They tend to be on the opposite end of the political spectrum. This paradox may surprise you but it does not come as any shock to me.
You see, politics don't matter when it comes to people of this nature. They exist in a simple transactional environment where the only thing you are to them is a means to an end. Nothing political, ideological, moral, or ethical binds them from their goal of using you to get what they want. And, of course, you oblige.
We all have experience with this sort of person. You run into them after a long absence at some place you frequent. They tell you how great you look, laugh at your wonderful jokes; then they get to the point. What can you do for them? The meeting was no accident.
Meghan Markle used Piers Morgan to get into a party where she targeted Prince Harry, then she had no more need of Morgan so she dumped him. Donald Trump flailed around various political ideologies until he found a Republican base willing to listen to his completely disingenuous ramblings on immigration. When he no longer needs them, he dumps them. Meghan Markle and Donald Trump are largely one and the same.
Enlightened Self-Interest
I thought this might be a useful time to speak briefly on the concept of Enlightened Self-Interest because you might mistake the narcissism of Meghan Markle and Donald Trump for it. Nope. They tend to destroy all they touch in their mindless grasping for the glittery trinket in front of their face.
Someone who act to further the interests of others, or the interests of the group or groups to which they belong, ultimately serve their own self-interest. That's enlightened self-interest.
Narcissists are Sometimes Right
It's also important to understand that Meghan Markle and Donald Trump sometimes have good points. They aren't wrong all the time and just because they are selfish, transactional people doesn't mean we shouldn't listen to their legitimate grievances.
I live in the real world and I'm quite certain Meghan Markle was subject to racist abuse and that Donald Trump was occasionally harassed not for his policies but simply because of his name. When bad things happen to bad people, we should call it out. That doesn't make the narcissist less self-centered, it just makes us a better person.
Conclusion
When it comes to Meghan Markle and Donald Trump it is likely you hate one and support the other. If you dislike them both you are in the minority but, if it's any comfort, you have my support.
Tom Liberman