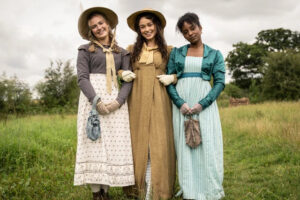 Season Two of Sanditon wrapped up with a final episode largely lacking a deft touch. The various plot lines largely smashed to the ground with all the force of turkeys dropped from a helicopter. This lack of deft touch runs counter to the general manner in which Jane Austen writes her novel and struck me greatly.
I'm certainly not saying the second season of Sanditon is a disaster. It proved largely watchable and mostly enjoyable. Still, the heavy-handed conclusion to several of the season-long story lines left me somewhat disappointed. Let's talk about it.
Charlotte, Alexander, and Colonel Lennox
I never felt any real chemistry between Charlotte and Alexander. I found Rose Williams effective in her role of Charlotte but I couldn't see why she fell in love with Alexander. Ben Lloyd-Hughes as Alexander never really engaged me. He seemed dull and lifeless, which, to be fair, is part of the character as written.
Likewise, Colonel Lennox didn't strike me as the sort to win Charlotte's heart. In addition, his portrayal as a scheming villain never resonated for me. Tom Weston-Jones just didn't make me hate him, or like him much for that matter. He was just sort of there.
Because I never really got invested in the potential love triangle, the ending never tugged at my emotions at all.
The Kids
Honestly, I know one is Leonora but the other one I just can't remember. Let me look it up, ah, yes, Augusta. Eloise Webb didn't have a lot to work with and she rotated between hating and adoring Charlotte so often I lost track of it all. I just didn't really care about either one of the children to be honest and therefore their plight didn't mean much to me.
Tom Parker and the Money Problems
I did find the money issues involving Sanditon and Tom Parker compelling but the resolution left me completely dissatisfied. I hoped Arthur might come up with some brilliant plan. Instead, a single hand of cards in a game that wasn't explained solved the issues. The dramatic music played during the game hoped to create tension and suspense but I felt nothing.
It's a real problem when one of the biggest dramatic moments at the conclusion of a season is confusing and dull. The resolution here left me baffled. This is the best the writers could find?
Miss Lambe and Charles Lockhart
The ending here really turned me off. Alexander Vlahos did a superb job as the brilliant artist, dismissive of society, admiring Miss Lambe. Then, suddenly, with no explanation or foreshadowing, he's the bad guy. Crystal Clarke as Georgiana also turned in a fine performance. First disdainful of the artist and then succumbing to his charm.
The conclusion largely betrayed everything that came before it. If we'd seen Lockhart revealing his nefarious scheme in any way before the denouement, it might have worked. We didn't. The twist ending fell quite flat for me at least, the deft touch of Austen completely absent.
Alison, Carter, and Fraser: A Deft Touch at Last
This love story made more sense and the flavor of Austen came through. I believed the innocent and bright-eyed Alison falling for the apparently dashing Captain Carter. Frank Blake as Fraser did a great job portraying his admiration of Alison while displaying loyalty to his friend.
Rosie Graham as Alison and Maxim Ays as Carter also performed admirably in their roles. I found myself invested in this story and when Fraser emerged as the winner of Alison's heart it made sense.
I was a little put off by Fraser resigning his commission and returning with Alison to a life of farming. A more appropriate ending, in my mind, is Alison joining Fraser in India, traveling the world as the wife of an officer destined for glory. That is a small quibble and this storyline proved more satisfying.
The Nefarious Edward
Absolute applause for Jack Fox in his role as Edward Denham. His performance made this story the most compelling in the series. This is a villain! He perfectly transitioned between scheming miscreant to charmer. I believed him, his plan made sense. He brought Edward Denham to life in a way lacking with Colonel Lennox and Charles Lockhart. A villain is vital to a story and Fox sold me completely.
Lily Sacofsky as Clara, Charlotte Spencer as Esther, and Anne Reid as Lady Denham ably supported and enhanced Fox's performance. Each of them brought their own nuance to the plot and I believed every second of it. When Clara comes to the realization she's better off on Team Esther it is apparent and logical. Everything comes together nicely.
Perhaps I found her final decision a bit paradoxical after her speech about the fierceness of her love for the baby, but this is minor.
Conclusion
Sanditon is a decent show and I enjoyed it. Sadly, it lacked the deft touch necessary to bring it home as excellent entertainment. What did you think?
Tom Liberman