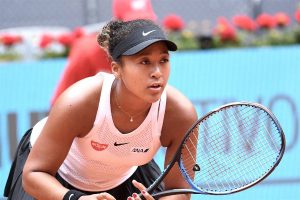 The Post-Match Interview
Tennis player Naomi Osaka withdrew from the French Open, a major tennis event, because she gets severe anxiety doing post-match interviews. There are a lot people writing about how poorly the event organizers treated her. Or how badly she treated the event organizers but that's not going to be the focus of my thoughts today.
I want to discuss the importance, or lack thereof, of post-match interviews. How valuable do you think they are in generating interest for the sport in question?
I'll get my own opinion out of the way early although I certainly recognize not everyone thinks the same way I do. I find them, to use a word, cringe. I actually turn off the event when they start. All right, let's get into the meat of it.
The Mental Health of an Athlete
I don't want to delve too deeply into why I empathize with Naomi Osaka in her situation. To put it simply, I am fairly introverted myself. That being said, I think Naomi Osaka is to be believed no matter her position. If she claims she loves doing media after matches or the opposite, we should listen to her.
In this era of social media dominance, it is particularly difficult to be a female athlete. I've wrote some time ago about tennis player Rebecca Marino who eventually quit the sport because of horrific bullying in social media and beyond. Any woman in sports can attest to the abuse she receives. Not to devalue the level of abuse many men also get.
I can well imagine any athlete's fear in going before the media; knowing even a simple misspoken word might result in vicious attacks on her or his character. Making a statement for or against anything seems to give rise to an unreasoning hated from at least part of the audience who do not hesitate to lash out. We need look no further than Naomi Osaka who faced brutal and vicious attacks for her unwillingness to perform post-match interviews.
There are a huge number of angry and cruel people out there who do not pause and simply let fly hurtful words at the slightest provocation, or for no reason at all.
Do you Enjoy Post-Match Interviews?
I've long cringed during post-match interviews of athletes. I don't think they are fair for the athlete, coming directly after a difficult loss or a physically and emotionally draining win. I don't think they are all that interesting as most interviewers ask the same stupid questions. How do you feel? What were you thinking when …?
We largely get Bull Durham-like rehearsed answers. Occasionally the interviewer asks a good question but the athlete is no position to think about or give a coherent answer. I hate those stupid interviews and I completely understand why an athlete feels the same way.
I find such interviews even more idiotic in this modern era where social media is available to every athlete. The athlete can take their time, recover from their arduous efforts, examine the question, think about it, and then answer in their own way in their own time.
Now, I find it pointless to interview Naomi Osaka after a match but, perhaps, you enjoy such interviews. Let me know what you think.

Loading ...
Tom Liberman