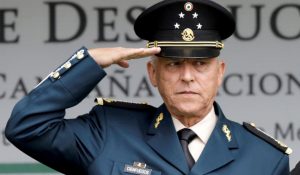 United States Attorney General William Barr dropped all charges against General Salvador Cienfuegos who, among other things, informed Mexican Drug Cartels who was an inside informant resulting in the murder of said person. Why did William Barr do this, well, he claims it's because Mexico wants to charge Cienfuegos, but the real reason is to make sure that Mexican authorities continue to cooperate with the US in drug interdiction.
Let's be clear, the United States has many, many Mexican nationals in our prisons related to drug crimes. What makes Cienfuegos special is that he has friends in high places and our completely corrupt government is happy to do them a favor.
In continuing to be clear, Cienfuegos is responsible for far more of the drug trafficking coming into the United States than a thousand low-level drug dealers. Our willingness to lock up a person selling drugs on the corner while ignoring the entire top of the supply chain is a damning indictment of those who bleat earnestly about the dangers of drugs in the United States.
I'm against the War on Drugs for any number of reasons. I don't think we should be prosecuting this war and I think the interdiction effort has caused more harm to the citizens of the United States than any other policy of government in the history of the country.
However, if you are for the War on Drugs, if you believe this scourge must be stopped, then you should be calling for Barr to be hanged by his neck until dead, I won't hold my breath. The reason you won't is because you are not really invested in ending the War on Drugs. This war fills the pockets of not only Cienfuegos but law enforcement agencies throughout this country. We are completely corrupted by the money and Barr's head is deeply in the trough.
The government takes your tax dollars by the billion and redistributes this wealth to law enforcement agencies across the country. This money is the primary way the Attorney General of the United States controls law enforcement. It is the way government bribes local officials into doing their bidding.
When Barr claims Cienfuegos will be tried and imprisoned in his own country, he is taking part in the grand deception. When Barr funnels money to law enforcement to war on drugs, they purchase equipment that allows them to crush freedom across the country, from Lafayette Square to Malheur National Wildlife Refuge.
Drugs have won, not because they are legal, but because they are illegal. We the People are losing.
Tom Liberman