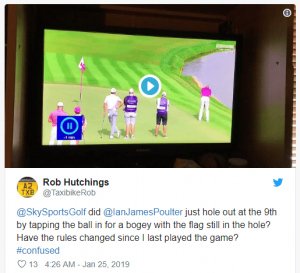 Thanks to TaxibikeRob and Ian Poulter, this week's Misleading Headline is also informative! The aforementioned Twitter user was confused when he was Poulter putting from on the green with the flagstick still in the hole during the Dubai Desert Classic and made mention of it on his twitter feed. The misleading Headline blared "Fan tries to narc on Ian Poulter putting with flagstick, in predictably gets mocked by Poulter and others."
Ok, Golf Digest, to begin with you need to shorten up the headline and give it more punch. Furthermore, if you actually spent the time and effort to read the tweet in question, TaxibikeRob was more asking a question than actually trying to narc anyone. Hence the hashtag #confused and the fact that he literally (see this to learn how to properly use that word) actually asked if the rules had changed.
Yes, the rules have changed which is something I didn't know myself. Had I seen a golfer putting with the flag in the stick I would also have been taken aback. I might have even been stronger in my objections that TaxibikeRob was about Poulter. In addition, TaxibikeRob was totally cool when several people, including Poulter, mentioned the rules had changed.
In fact, most of the so-called mocking was good natured ribbing aimed at Poulter as much as TaxibikeRob. Good on both of them for seeing the humor in the situation. Bad on you Golf Digest for making it appear as if something egregious happened.
Tom Liberman