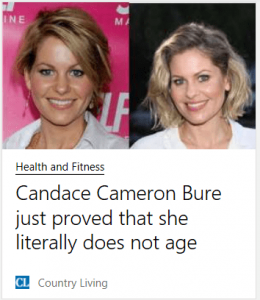 I'm not sure misleading is the proper category for the headline that suggests Candace Cameron Bure isn't getting older but it does present an opportunity to allow my inner Grammar Police personality out in all its annoying glory. You guessed it; it's time to learn the difference between Literally and Figuratively. Yay!
When someone says something happened in a literal fashion what they are saying is that it actually happened. While it may sound crazy what I'm telling you, it really did happen. An example might be shy, socially inept me was sitting at the bar at my favorite watering hole, Sub Zero when a quite attractive dark-haired vixen with impressive surgical enhancement cozied up a few stools down. I literally moved over and engaged her in conversation. Hard to believe, yes, but literally true.
Now, an example of figurative. Later, after a few direct messages she figuratively blew me off. That is to say, she stopped responding to my texts. If she literally blew me off that would mean that with her breath or perhaps her hair dryer, she aimed a gust of wind at me and sent me cartwheeling off to the barrel of rejected boys. The barrel of rejected boys is, by the way, also figurative.
If Bure literally stopped aging it would certainly amount to a medical miracle and the poor young woman would be subject to a hurricane, figurative of course, of lab tests.
Now, my disciples, go out into the world and use figuratively and literally properly!
Tom Liberman