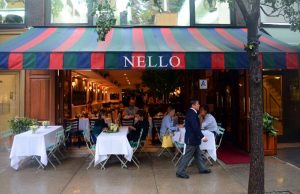 There's a news story making the rounds about an upscale restaurant in New York City called Nello which has instituted a policy wherein they have banned single women from sitting at the bar. Such women must sit at a table. It's a double-dipping, moronic, Libertarian Triggering, nightmare of epic proportions!
The reason for the new policy is that prostitutes sometimes sit at the bar in the hopes of attracting customer. The management of Nello doesn't like having these ladies in their establishment so they've taken to seating single women at tables rather than the bar. Why is this so incredibly stupid, you might ask me? I'm so, so happy to tell you.
Nello is banning all women because women are engaging in a banned profession despite the fact that the banning of prostitutes is clearly not working in the first place! But, obviously, the banning of single women from the bar will work where the banning of prostitutes hasn't. Oh, the joyous, glorious, Libertarian irony. I'm figurately giddy. Or is that literally giddy? You'll have to read my recent blog on the difference between the two to know. As for me, I'm just so darned pleased with myself that I'm going to continue to ramble.
You see, the banning of women because the other banning isn't working is not the only problem with the Nello policy. All single women wanting to dine at Nello are being punished for something someone else is doing. This is the misguided thinking behind the so many useless, freedom defying laws that dot the legislative slates across our country. Some people might waste their money playing poker or betting on sports, ban gambling! Someone might become addicted to a substance, ban marijuana! Kids might be vaping more than is good for them, ban Electronic Cigarettes! Someone might use a firearm in a crime, ban weapons!
Nello, my dear fascist enforcers of moronic policy, if there is a lady of the evening in your restaurant, kick her out. She's the one causing the issue. Personally, I have no problem with prostitutes. They are providing a service to a willing clientele. However, I absolutely support Nello's right to have in their establishment who they want; if they don't want ladies of the evening so be it.
Now, before you start telling saying, 'Hey, dumbass, you're being hypocritical because Nello can ban single women at the bar and you should support their right to do so'. I agree Nello has every right to ban single women from the bar, the owner of the restaurant can make any decision in that regard he or she wants although Constitutional protections for gender might well be something to consider legally. I just think it's a poor business decision. They are alienating a certain portion of their clientele.
Stupid decisions? Those are theirs to make as well. If it affects their business, perhaps they'll change the policy. That's the reality of the situation. I can't tell Nello how they run their restaurants. I can choose which restaurants to patronize. That's freedom.
Tom Liberman