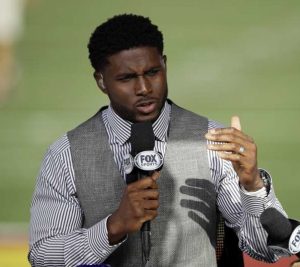 Reggie Bush says paying college athletes will result in destroying some people screams the rather misleading headline. The idea that athletes will soon be paid for their name, image, and likeness (NIL) is the basis for the article. While Bush's statement is accurate, the gist of his point is about how young athletes coming into large amounts of money will attract those who hope to steal it.
The point here is the headline is completely misrepresenting what Bush is saying. The inference from the headline is Bush is against paying young college athletes based on the idea it will be destroying some people. In reality he is simply stating a fact. If young athletes, or any person, comes into a fairly large amount of money and they don't have a solid financial background, unsavory people will attempt to steal that money and it has the potential to be damaging.
Now, I'd like to get a little deeper into an analysis of this simple fact. Many people, not Bush to be clear, will use this premise to argue against young athletes receiving money for their NIL. We are protecting this poor, helpless athlete from the terrible dangers of having her or his money stolen and life destroyed. Who is the we? That is the important question for me. The answer is simple enough, we isn't the one being paid, it's someone else on their self-righteous pedestal. That is really all you need to know.
The person to be paid needs to be protected by not paying them. We'll take care of you because there is danger in being wealthy. You're just not old enough, wise enough, careful enough, wary enough so we'll watch out for you. This is the paternalistic nonsense that both politicians and those who want to control our lives spout almost continuously. We know what is better for you than you do yourself.
The danger lies in the fact they are sometimes quite correct. This destroying some people by the sudden accumulation of wealth is no idle fantasy. It happens. There are several options here and if you read Bush's comments in full, he goes into them with great clarity.
His main suggestion is that young athletes be given a solid financial foundation from which they will be able to properly manage their newfound wealth. This is, without question, the best course of action. Another option is to simply give them the money and some percentage will fall victim to rogues. The final option is to tell them they just are not capable of managing the money and therefore you are doing them a favor by prohibiting them from having it.
When you examine these three options with a clear mind, it is obvious the third choice, withholding the money, is far and away the must unethical and disgusting. The terrible part is this is exactly what we've been doing for the last who knows how many years. Even worse, I'm sure you can find any number of people who will still argue it right now and they'll think Bush was doing the same. He wasn't.
Let people make their own mistakes while giving them as many tools as you can to make good decisions. This is the only correct answer.
Tom Liberman