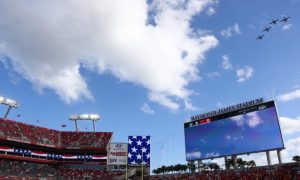 The fact Troy Aikman and Joe Buck have their patriotism put in doubt when they question the need for a flyover during an NFL game with low attendance starkly tells us about something called Ego Defense. It's not about disagreeing; it's about feeling devalued. It's not about Aikman, Buck, and the flyover, it's about your own fragile ego.
I wrote about taxpayer money going to sports teams for various military tributes and a flyover is essentially the same thing, the money being paid for advertisements comes out of taxpayer money. With the country in suffocating debt, exacerbated by the failed Covid-19 response to the tune of $3.1 trillion this year alone, it's more than a legitimate criticism from Aikman and Buck, it's a simple fact. Why is the military spending tens of thousands of dollars to perform a flyover for a largely empty stadium?
Why is your self-worth wrapped up in criticizing Aikman and Buck? How is it that you somehow fool yourself into thinking you're patriotic when you accuse others of not being so? It's simply an Ego Defense.
In the words of a Psychology Today Article: … criticism is an easy form of ego defense. We don't criticize because we disagree with a behavior or an attitude. We criticize because we somehow feel devalued by the behavior or attitude. Critical people tend to be easily insulted and especially in need of ego defense.
The article goes on to explain those who feel the need to criticize do so out of feelings of unworthiness. My own anecdotal experience confirms this quite thoroughly. Those who feel the need to criticize others are doing so out of their own feelings of self-loathing. They must convince themselves they are better than others and that's exactly what is happening with Aikman, Buck, and the flyover.
Taking a knee during the National Anthem, wearing a BLM shirt, an Antifa shirt, waving a Confederate Flag, waving a Rainbow Flag, none of these things hurts you in any way, it's all about you and your own problems. Your ego is fragile and needs defense. The more fragile your ego, the more you need to criticize everyone who does thing differently than you, the stronger your ego, the less you need to do so.
Aikman did nothing wrong, it's pretty clear his opinion has merit, something we can discuss at length but is not the point I'm making today. If you think Aikman is less of a patriot because he chose to criticize the flyover, then it's you with the problem, not him. Get over it.
Tom Liberman